Two days spent exploring the Isles of Harris and Lewis. We visited mainly for the stunning beaches, which did not disappoint!
Sunday 24 to Tuesday 26 September 2017
Accommodation: Small wigwam at Laxdale Holiday park in Stornoway on the Isle of Lewis. £50/night for wigwam, booked directly at laxdaleholidaypark.com.
Due to us only being able to get an afternoon ferry from Skye, we only had a day and a half to venture around the Isles of Harris and Lewis. The two islands are joined, with Harris to the south and Lewis to the north.
Luskentyre beach
The entire trip had been planned around us wanting to see the beautiful beaches of the Isle of Harris, so once we got off the ferry, Luskentyre beach was our first stop!
The CalMac ferry arrived at Tarbert port on Harris and we drove south towards the beach with a map of the islands in hand. The scenery on Harris was very different to that of Skye. Instead of lots of green, it was rocky and stark. Someone from our Skye accommodation had described it as like driving on the moon and I could see what she meant. She also advised us to be careful as the roads are narrow and if you end up stuck in a ditch at the side, you're unlikely to see another car for some time. And of course, no phone signal to call for help.
We found a turn off for Luskentyre beach and drove along another long, narrow road to a small car park. Leaving Furio (Lauren's car), we walked along a shallow, sandy river to the beach. We arrived on the beach and we had it all to ourselves! What a hidden gem. The skies were grey with rain drizzling but as soon as we got to the beach, the sun popped out. Our guardian angel saying hello.
After paddling and jumping about the beach for a while another few people arrived and we asked someone to take a photo for us.
We wandered back along the river to the car park, admiring the beautiful patterns in the sand. There's a toilet block at the car park so we washed our feet in the tiny sink before getting back in Furio.
North to Stornoway
Our accommodation was booked in Stornaway and (because of the roads) we wanted to get there before it got dark. We were going to take the 'golden route' up to Lewis but decided to cut in part way to do half of it and save time. The route was similar with some lovely lakes on the way.
We arrived at Laxdale Holiday Park and checked into our wigwam, 'Big Chief'. We'd decided on the smaller of the two wigwams and it was definitely big enough for the three of us. Aside from a fridge and kettle, there wasn't anything to cook with. There's also a bunkhouse which has kitchen facilities but I'm not sure if there was anything available for wigwammers to use.
We decided to take a walk into town in search of food. After staying in Uig on Skye for three nights, I'd grown to love how remote we were and had hoped the wigwams would be similar. However, Stornaway is huge! There's massive supermarkets, takeaways etc. I was mad that the place wasn't as lovely and remote as Uig – though it was handy when we wanted to find something to eat!
We got to the restaurant of the Royal Hotel and had a few minute's to quickly order before the kitchen closed. The food was pub grub type stuff but pretty good and the staff were lovely.
Harris Gin
Aside from the beaches, my other mission for Harris and Lewis was to get a bottle of Harris Gin. I wasn't too fussed about the gin itself but the bottle is beautiful. As we arrived on Sunday, the Harris Gin Distillery was closed and we didn't have time to drive back the next day – bad planning from me! On the CalMac from Uig I'd asked a few of the locals where I could buy Harris Gin on Harris and Lewis and the answer was…nowhere apart from the factory! So at the bar, I asked our waitress how many Harris Gins we'd have to buy to get to the bottle, hoping we could buy a few each to empty it and get the bottle. She said she'd check and came back with an empty bottle for me which they'd finished recently! I was so delighted and think I scared her a bit with my excitement! We each had a Harris Gin and tonic before wandering back to our wigwam.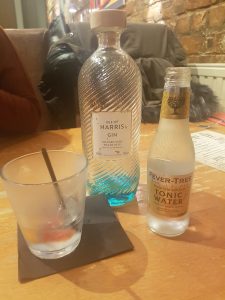 Exploring Lewis
The next day was spent exploring the Isle of Lewis. Between lovely Rachel from our Skye Bunkhouse and a helpful man working on the ferry giving us recommendations, we had a packed itinerary! After stopping at the biggest Co-op I have ever seen for breakfast/lunch supplies, we were on our way.
Mangersta Bothy
The first place on our list was the Mangersta Bothy. I kind of don't want to give too much info about the bothy as it is so special because it's completely off the beaten track. However, it's apparently now in an official bothy book so the secret is out.
Rachel had given us great directions to the bothy, along with photos which helped massively but we still managed to get lost twice! During our drive we stopped at a little shop where I bought a Harris Tweed rose to live in my new Harris Gin bottle! Eventually, we found the right parking spot, recognising it by the sign from Rachel's photos. We started walking in the wrong direction before a man in a 4×4 shouted over to ask where we were going and pointed us the right way!
The bothy is signposted by cryptic clues like a hand pointing and then a hand pouring a bottle and finally a wooden arrow pointing you in the right direction towards the cliff edge. Top tip would be to wear wellies or waterproof shoes to get there as you need to walk through a very marshy field. Lou was pretty smug in her waterproof shoes while Lauren and I were trying to avoid the bog!
The location of the bothy is absolutely stunning. I could have stood there all day admiring the view and inhaling the clean, sea air. And the bothy is so beautifully made, hiding perfectly in the cliffs so you almost don't spot it.
The bothy was built by John and Lorna Norgrove who live nearby. Sadly in 2010 the couple lost their 36 year old daughter, Linda, who was killed while working for an aid agency in Afghanistan. They have since started the Linda Norgrove Foundation in her memory to raise money to help women and children in Afghanistan. They built the bothy before their daughter's death though use it to promote the foundation. There's a box in the bothy with information on the work that they do.
People visit the bothy to spend the night but we were just popping in to have a look. It would be an amazing experience to spend a night there, with a fire lit, listening to the waves crash on the cliffs beneath. It's so well built that I'm sure you'd feel safe and cozy.
The weather was perfect with clear blue skies and we were all reluctant to leave such a special, peaceful place. However, we had a lot more to see that day so tore ourselves away.
Just as we got back to the road (Lauren and I with soggy feet), we passed a couple heading in the direction of the bothy. We exchanged hellos and Lou said "I think we've just visited your bothy!" She recognised them from one of the foundation leaflets as John and Lorna Norgrove who had built the bothy.
We had a quick chat with them, saying how much we all loved it. I asked how often people stayed and they said almost every night during high season since it had been in the bothy guide. They seemed like quite quiet characters who enjoyed the remoteness of where they lived and I felt disappointed for them that the bothy was no longer such a special secret.
It is free to stay in the bothy but you need to contact John and Lorna to book it. Make sure you don't arrive after dark or you'll never find it!
Uig Beach
As well as a Uig on Skye, there's one on Lewis and Rachel had recommended a beach there to visit. We backtracked on ourselves from the bothy (which was out of the way but so worth the detour) to the beach at Uig.
Once again we were lucky to have the beach to ourselves and found a big rock to sit on and have our picnics. In my opinion, this was even more stunning than Luskentyre beach, but the weather was better than the previous day (to be fair to Luskentyre!).
The tide was really far out and, while Lou and Lauren sat on the rock, I walked over the wet sand to the edge of the water. I stood for a while watching the gentle waves in the sea, feeling completely at peace. The beach is so remote that I felt a million miles from reality. It would be a fabulous place to spend some time if you needed to get away from it all.
Once again, we had to tear ourselves away and move on to our next stop.
Callanish Standing Stones
Driving north, up the west of the island, we reached the Callanish (Gaelic: Calanais) Standing Stones. 5,000 years old, the Callanish Stones are about 500 years older than Stonehenge. It is unknown why the stones were erected and the best guess is that it was a kind of astronomical observatory.
I'm no archaeologist but I suspect that the stones were put in place as a location for millenniums to pose for photos, thousands of years in the future!
We popped into the gift shop on the way back to Furio and I ended up buying a beautiful Harris Tweed satchel which has since been complimented so many times I have lost count! It's actually made by an Edinburgh company, SnowPaw.
Carloway Broch
Back on the road and we were in search of Carloway Broch. None of knowing what a broch actually was, we discovered a tiny visitors' centre just down the hill from it which explained. "A Broch is an Iron Age structure designed to impress and defend, and were probably the homes of tribal leaders and important members of the community."
We climbed the small hill from the visitors centre to the structure for a look around. Views from the hill over Loch an Duin were stunning (I've been using that word a lot but Harris and Lewis deserve it!) and Lou was mesmerised by a stone wall beside the broch. Turns out the lass really loves a stone wall!
Gearrannan Blackhouse Village
The final stop in our Lewis itinerary was Gearrannan Blackhouse Village. The houses are now a mixture of bunkhouses, a hostel and musesums, but until the late 1970s, the blackhouses were home to generations of crofting families. The last of the residents moved out as they were elderly and could not do the upkeep required for the traditional houses with their thatched roofs and stonework. Soon after, the village was declared a conservation area and protected. It's sad that they weren't able to keep the traditional way of life but nice that the village has been preserved.
We arrived about 10 minutes before closing time so the lady at the entrance said we didn't need to pay, but it would usually be £3.50. There's a collection of traditional buildings each set up how they would have been lived in or with a small exhibition, e.g. about the production of Harris Tweed.
Stornaway
After Blackhouses, we ventured back to the bright lights of Stornaway. Just as you come out of the Blackhouses exit, before the main road, there's a subtle turn off to the right and under a bridge. This road allows you to cut right across Lewis from west to east and arrive back in Stornaway. It was one long, narrow road with passing places and saved us a lot of time.
Due to our lack of cooking supplies, we decided to get take away. Still annoyed we were no longer so remote, we had our choice of places to get food. A far cry from the chippy in a garden near Skye's Uig!
Ferry to Ullapool
The next morning our ferry left Stornoway for Ullapool at 7am. We had to check in for the ferry at 6.15am so it was a very early start! We got breakfast on the ferry and enjoyed watching the sunrise over the mainland in the distance. The ferry takes 2.5 hours (I was surprised that it was so long) and we arrived in Ullapool at 9am, Furio driving us on to Edinburgh, with Lauren at the helm.
A peaceful few days in the beautiful islands of Scotland with a couple of lovely girls.  Good for the soul!