Thursday 15 & Friday 16 September 2016
Accommodation: Apartment 96 of Apartment Krakòwski Lux booked on booking.com. One bedroom apartment with kitchen and balcony for 737 Polish Zlotys (about £150) for four nights.
Arriving in Krakòw
After running around trying to get Polish Zlotys at the last minute (surprisingly not very easy in Edinburgh considering how many Polish people live in the city!), we flew to Krakòw from Edinburgh with Ryanair. After a slight delay (something to do with a missing phalange…) we arrived at John Paul II International Airport Krakòw. We had pre-booked a transfer from the airport to our apartment (via booking.com) so there was a man waiting for us with my name on a sign when we walked through to arrivals. The journey to our apartment took about 20 minutes and cost 80 PLN (about £16).
Our apartment was in a small complex of buildings, only accessible through reception or a locked gate. The apartments were mainly private with a few holiday rentals thrown in. We went to the reception to pick up keys. The man at the reception didn't speak English and we know no Polish but we got by, got the keys and headed for our apartment.
Once through reception, you walk out a second door into an internal court yard with apartment blocks around the centre and balconies overlooking. We found our block and got the lift up to the third floor.
We paid less than £40 a night for the apartment and were delighted at what that got us. A modern one bedroom apartment with shower room, open plan lounge/kitchen and balcony.
Breakfast
The next morning, we had a trip planned for 10am and left the apartment early in search of breakfast. Right beside the reception we found a cafe called Blossom where we each got very tasty scrambled eggs with salmon for about £2. I also ordered a hot chocolate which tasted like a big mug of melted chocolate – a bit too intense!
While we were waiting for breakfast, I had a look online for some Polish words. I usually try to learn a few of the basics such as 'hello' and 'thank you' before visiting a new country and was kicking myself slightly that I hadn't got round to doing this. I soon learnt that Polish is one of the three hardest languages in the world to learn though, along with Chinese and Hungarian! I learnt that 'thank you' was Dziekuję (pronounced 'jen-koo-yeah') before breakfast arrived.
Crazy Guides
I'd found Crazy Guide's tours on TripAdvisor and contacted a few weeks early to book. There are a few different tours and we decided on the Communist Deluxe which costs a very reasonable 179 PLN (about £36) per person for a four hour private tour.
At 10am, our Crazy Guide, Izabella picked us up outside our apartment in a lime green Trabant car from 1972. I jumped (or slowly struggled in a very unladylike fashion) in the back and David sat in the front beside Izabella.
As we drove towards our first stop Izabella told us that Crazy Guides had six of the Trabant cars (or 'Trabbies'), three of which are painted (like our car for the day) and the others are in the original ivory colour. We were heading towards Nowa Huta, just outside of Krakòw, and were told the background of the area as we drove.
Nowa Huta
In a nutshell, Nowa Huta was claimed to be a gift from Stalin (then leader of Soviet Union). After World War 2 ended, the Soviet Union swept in and said they could make everything better by creating the pre-planned, ideal city of Nowa Huta, which means "New Steelworks". Through propaganda, Stalin convinced people across Poland to volunteer to take part in building the new city. Workers slept in tents while they helped to build the city and were eventually given apartments. The country's largest factory was based there and the volunteers worked to produce steel.
Nowa Huta was inspired by 1920s New York, with lots of green spaces for workers to relax. The layout was carefully planned so that the likes of riots would not be easy and the city could be turned into a fortress if it came under attack. The city was created for 100,000 people and 40,000 worked in the steelworks.
Izabella parked on the street, we 'jumped' out (David wrestling to work the door and me unfolding myself from the back seat) and walked around the corner to Roses Avenue where an enormous statue of Vladimir Lenin had once towered over the citizens of Nowa Huta.
We walked down the Avenue, towards Central Square as Izabella described how life would be at the time. At Central Square she explained all the streets that led off from this including one towards the steelworks which workers would use to walk to the steelworks. Central Square has been renamed as 'Ronald Reagan Square' due to his support of protesting against communism. The Square has brightly coloured flowers growing but at the time of communism, only red roses were allowed to grow which I found a bit creepy.
We stopped to look at a big map of Nowa Huta and Krakòw, which helped us to understand the sheer size of the area and the massive area that the steelworks covered – the steelworks covered 17 square km. Izabella also pointed out all the green space and a big lake which had been created for the workers.
We wandered back up Roses Avenue and went to the Restauracja Stylowa – 'Stylish Restaurant'. Restauracja Stylowa is the oldest restaurant in Nowa Huta and has been open since 1956. It is kept as it was at that time when people would get dressed up to go for dinner, drinks and live music would play.
We took a seat outside in the sunshine and Izabella got us a drink. She then produced a photo book which she talked through, covering the history of Nowa Huta from the workers living in tents and ending with the collapse of communism and the enormous Lenin statue in 1989.
It was really fascinating to learn about this very recent history and we asked lots of questions about the time and Poland. Izabella explained that after the Second World War, anything seemed 'better' than life had been so it was understandable that people would volunteer. We asked if people considered it to be a good time in history and she explained that her grandparents generation (who had seen WW2) were much more positive than her parents about the time. We also spoke about post-Communism Poland and how it was built back up. Entrance to the European Union was seen as a major factor in the country's success today.
Steelworks
The book had included photos of the two administration buildings which stood at each side of the steelworks entrance, and this was our next stop on our drive. The buildings which were once plush offices in a sandstone colour are now offices for two banks, greyed with pollution from the steelworks. In between the two buildings there is a huge sign which says "Huta im T.Sendzimira" but had previous said "Huta im Lenina". It was changed from Lenin in 1990 to commemorate the scientist and engineer Tadeusz Sendzimir.
Isabel parked the Trabbie in front of this huge sign and we stood on the car (it bounced back to shape!) and got some photos taken.
A milk bar was the next stop on our tour and on the way we stopped to see a Polish tank outside the Museum of the Armed Act (Muzeum Czynu Zbrojnego).
Milk bar
During the time of Nowa Huta being built, workers were able to eat at 'Milk bars' and a few of these still exist in Krakòw and Nowa Huta. Milk bars are a very basic and very cheap place to eat. We drove to one of the remaining milk bars for lunch. Food is prepared in the morning so it is a quick place to grab something to eat – though Izabella said you could queue for a long time during peak lunch time. We arrived about noon so a bit ahead of the rush.
Inside the milk bar was a small room, with a counter at the entrance and about eight tables of four. The decor is very basic and old fashioned and reminded me of school dinners at an old school.
The menu was in Polish and Izabella listed our choices for lunch. There are a lot of hearty meat options but we'd said that we don't eat meat so she translated the vege options for us.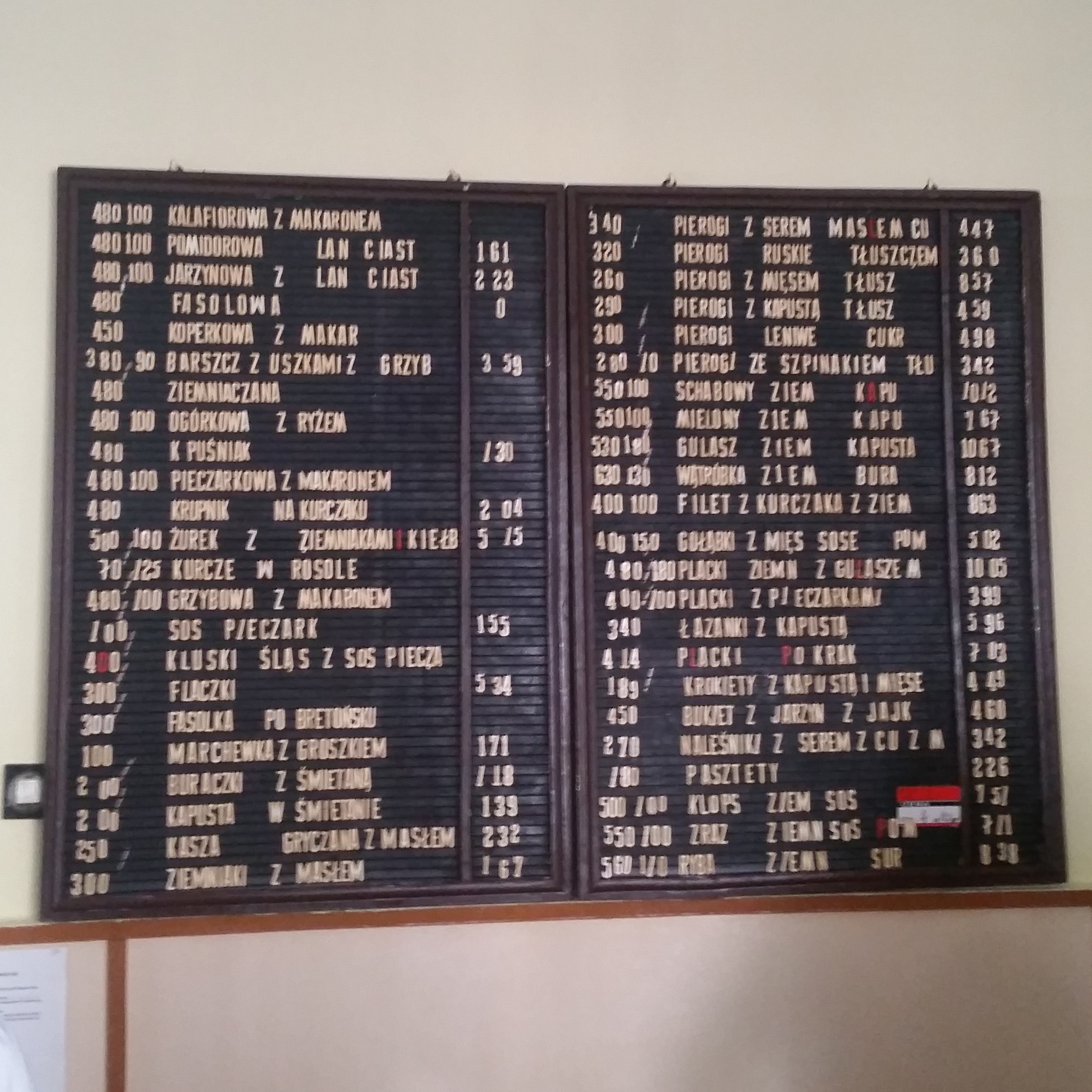 I asked for spinach perogies (dumplings) and David requested potato pancakes with mushroom sauce. As Izabella went up to the counter, a man sat down with his meal at our table of four (I think sharing the tables is common), ate and had left before Izabella returned five minutes later.
The food was all pretty good, which was slightly surprising as I had school dinners in my head. It was also very filling, which made sense given that the milk bars would have been created when food was scarce and a lot of flour, potato etc is used.
My perogies were boiled, with spinach inside and butter on them and tasty. Milk wasn't available to drink, instead we each had a cold drink of boiled fruit with sugar. Isabel also got perogies, but opted for a half portion. She's been to this milk bar many times with tours so knew how big the portions were.
Pretty much everything on the menu was 5 PLN (about £1) or less – unbelievably cheap so you can see why the milk bars are so popular. Apparently the milk bars are still subsidised by the government. I'm glad we tried a milk bar as part of a tour as they look quite uninviting and the Polish menu would have been confusing. We did spot a milk bar near the main square in Krakòw but it seemed a bit too posh to be authentic after seeing the real deal.
When we had finished, Izabella gathered up our plates and mugs and put them by a window to the kitchen on the way out. I asked if there was anywhere we could buy a bottle of water (it was such a lovely, hot day and our 1970s car was lacking air con!) and we went to a very grand Tesco supermarket next door which had once been a cinema.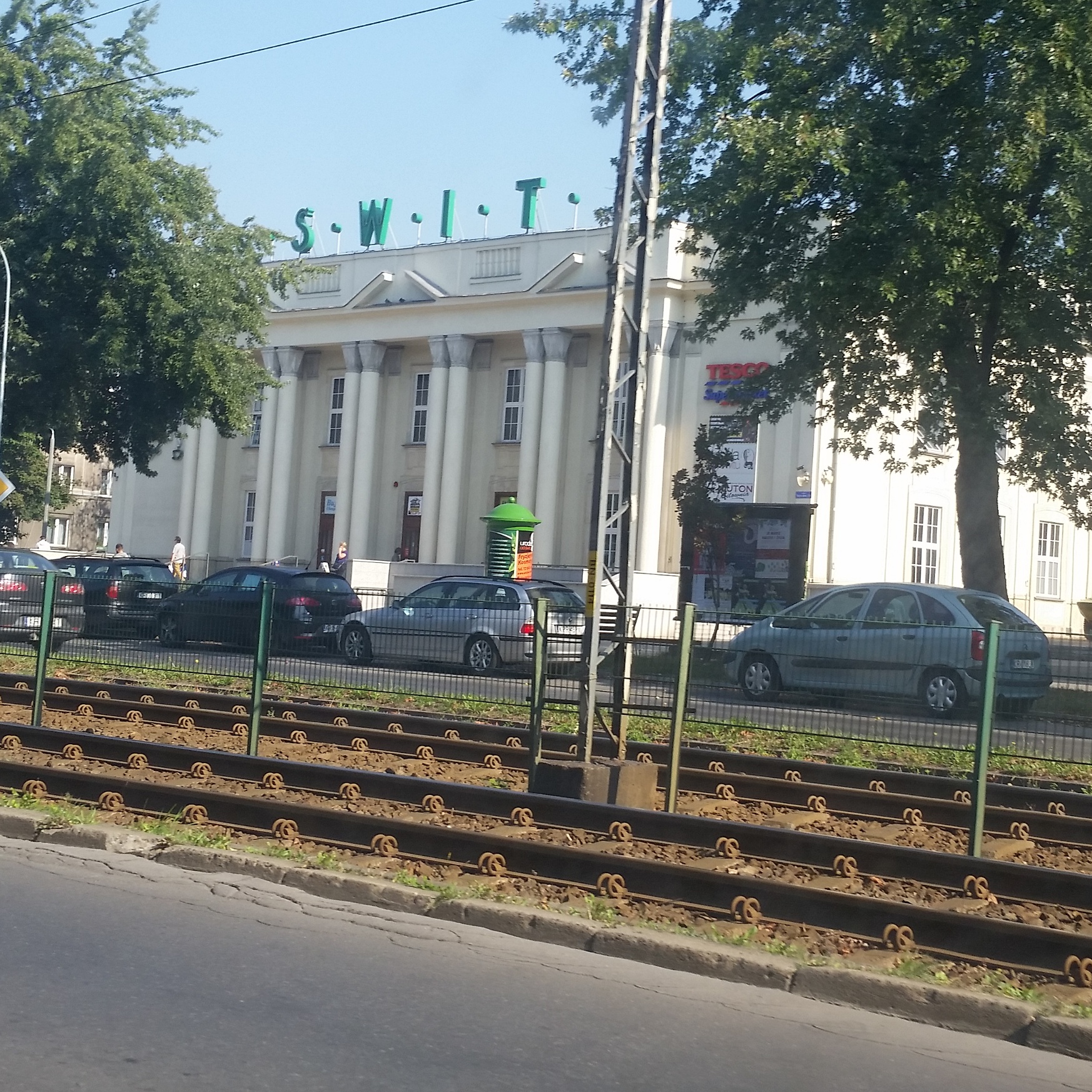 Communist-style apartment
After lunch, we drove to an apartment which is owned by Crazy Guides and kept in the same style it would have been during the communist era. We parked and walked through an arch into a circle of apartment blocks, with a kindergarten in the centre. We went into one of the buildings and walked upstairs (Nowa Huta had been built without lifts) to the apartment.
Izabella gave us a tour of the small apartment (which is slightly bigger than others), pointing out interesting things like the photos of Lenin and the Pope (not together…), records of a Polish band very similar to the Beetles and the device for making moonshine vodka.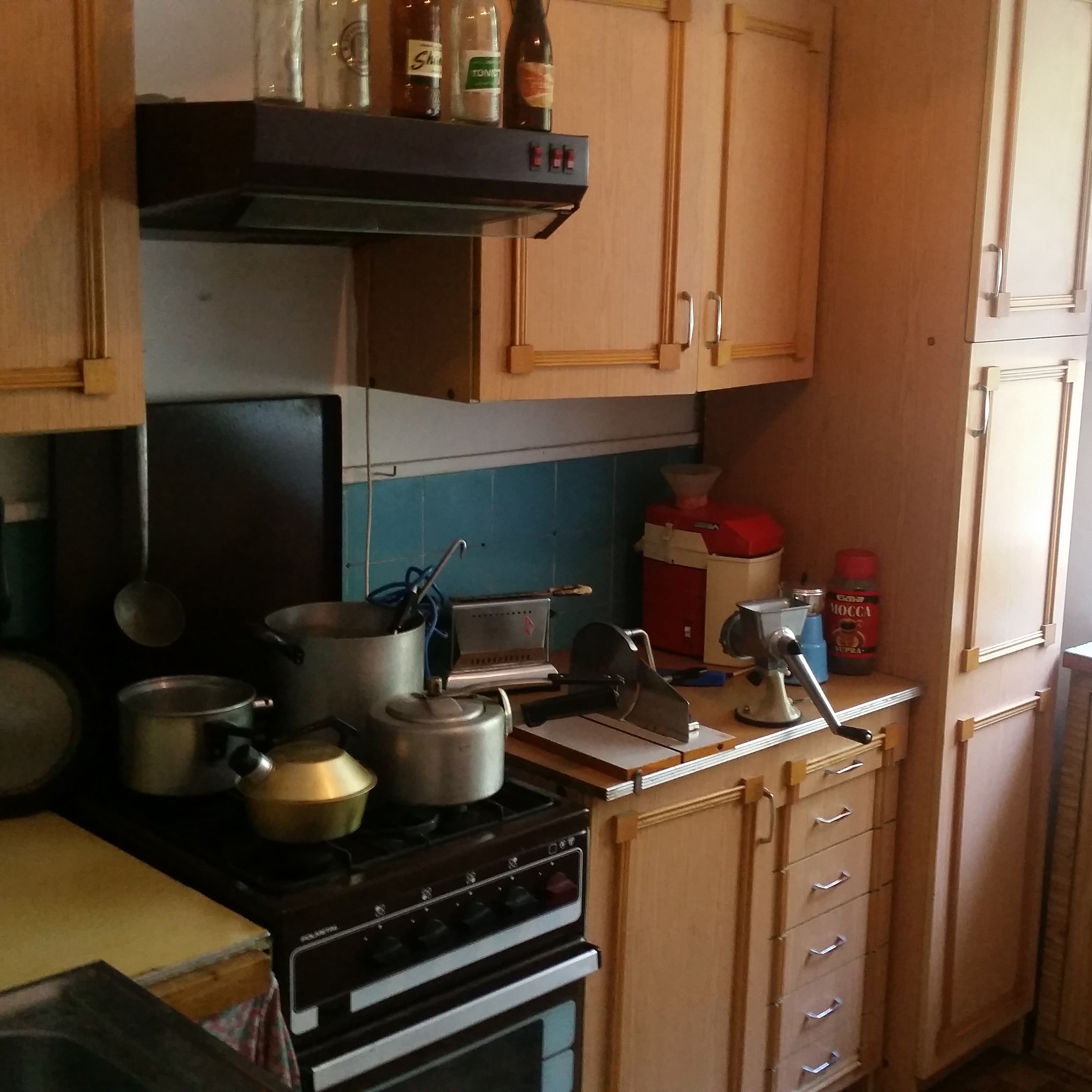 The apartment consisted of a livingroom, kitchen, bathroom, toilet and two bedrooms (but not set up with beds). We then sat in the livingroom to watch a propaganda film on the old television. The film was produced by Stalin to tell the people of Poland of the amazing opportunity of Nowa Huta. It showed happy workers, volunteering to build this new city, explaining the opportunities to learn new skills, join the community and have time for things like your favourite sport and reading.
I was convinced! Joking aside, I can see how people truly believed what a fantastic opportunity this was after the Nazi regime and volunteered. While we watched, Izabella prepared us a small tray with a shot of vodka each and a pickled cucumber!
I had a bite and sampled the vodka and David did his shot, ate his cucumber and started on mine!
The Lord's Arc Church
Nowa Huta was planned without religion and it took years (and a lot of trouble) for a church to be built. With the help of Pope John Paul II, the first church known as The Lord's Arc was finished in 1977.
It took 10 years to complete and no help was given by the authorities. The last stop of our tour was the church and we went inside for a look. The design was surprisingly modern, especially in contrast to the buildings in Nowa Huta.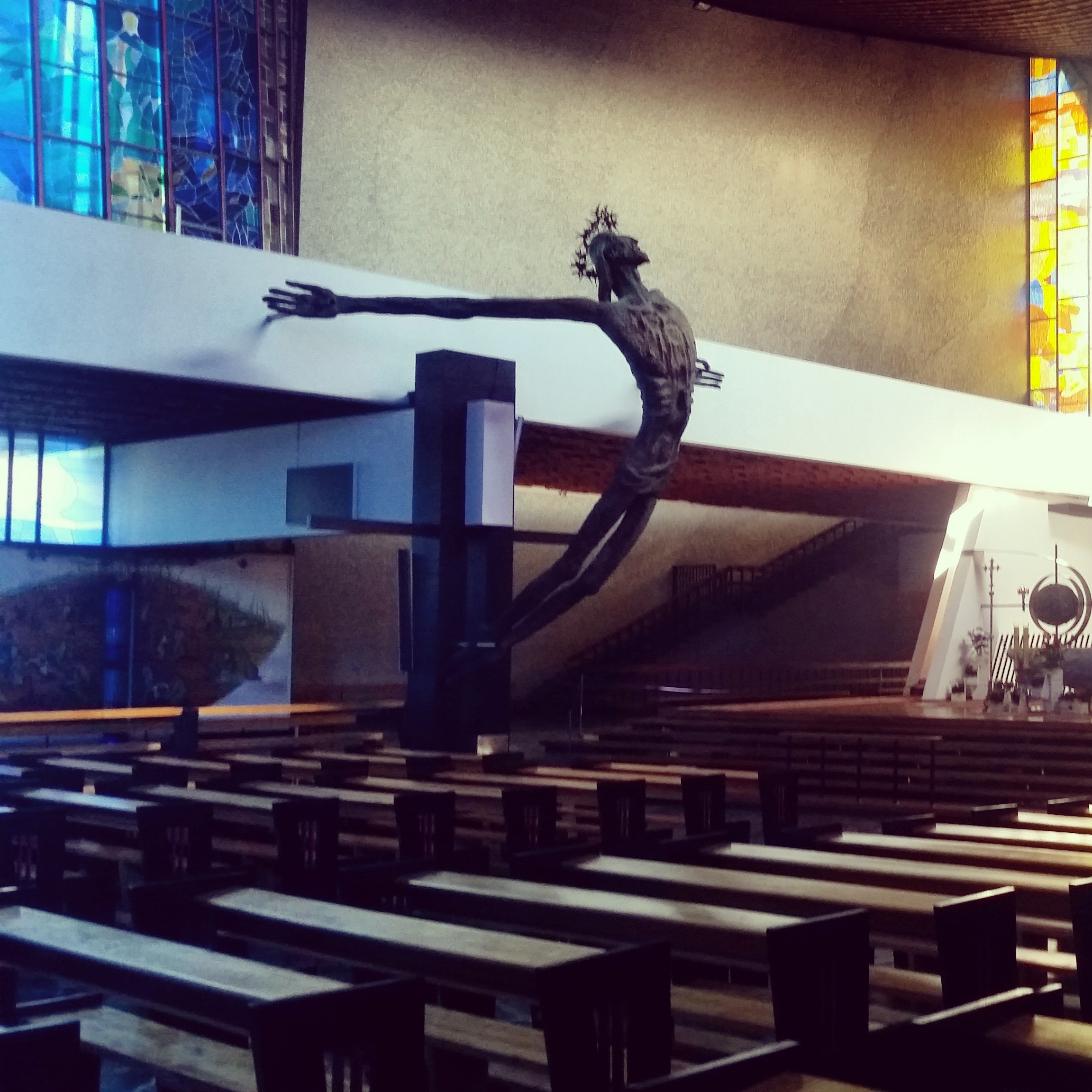 I asked Izabella if there were many synagogues or Jewish people living in Krakòw and was surprised to hear how few Jews there are. After the war, many left Poland for Israel. I expected there to be a large Jewish community in the city and for Poland to be very welcoming to Jews after the Second World War.
The tour came to an end, Izabella dropped us off near the Main Square of Krakòw and we waved her off in the lime green Trabbie.
I would highly recommend doing one of the Crazy Guides tours if you are in Krakòw. It was so interesting to learn about Nowa Huta and Poland's communist post-war history. We picked up a Krakòw guidebook later and there is literally a short paragraph about this very important time in the city's history so I don't think we would have known about it in so much detail otherwise. Izaballa was a great guide and the added information about her grandparent's and parent's experiences of this time really brought to life how recent it all was. Plus, we got to cruise about in a very cool Trabbie car for the day!
Market square
We walked towards the Main Square and found ourselves in a smaller square with market stalls. David bought a beer and sat down at a table while I had a wander around the shops and picked up a few souvenirs.
There were stalls selling perogies, meat, bread, chocolate, soup and beer as well as clothing, jewellery and Polish slippers.
By the time I got back to David, he was sitting with two Swedish ladies and two German ladies, all drinking beer. I bought a small portion of smoked cheese perogies and joined them to eat. The perogies were a mix of fried and steamed and were tasty. They were a bit greasy with the oil from the fried ones and I decided I preferred my perogies boiled.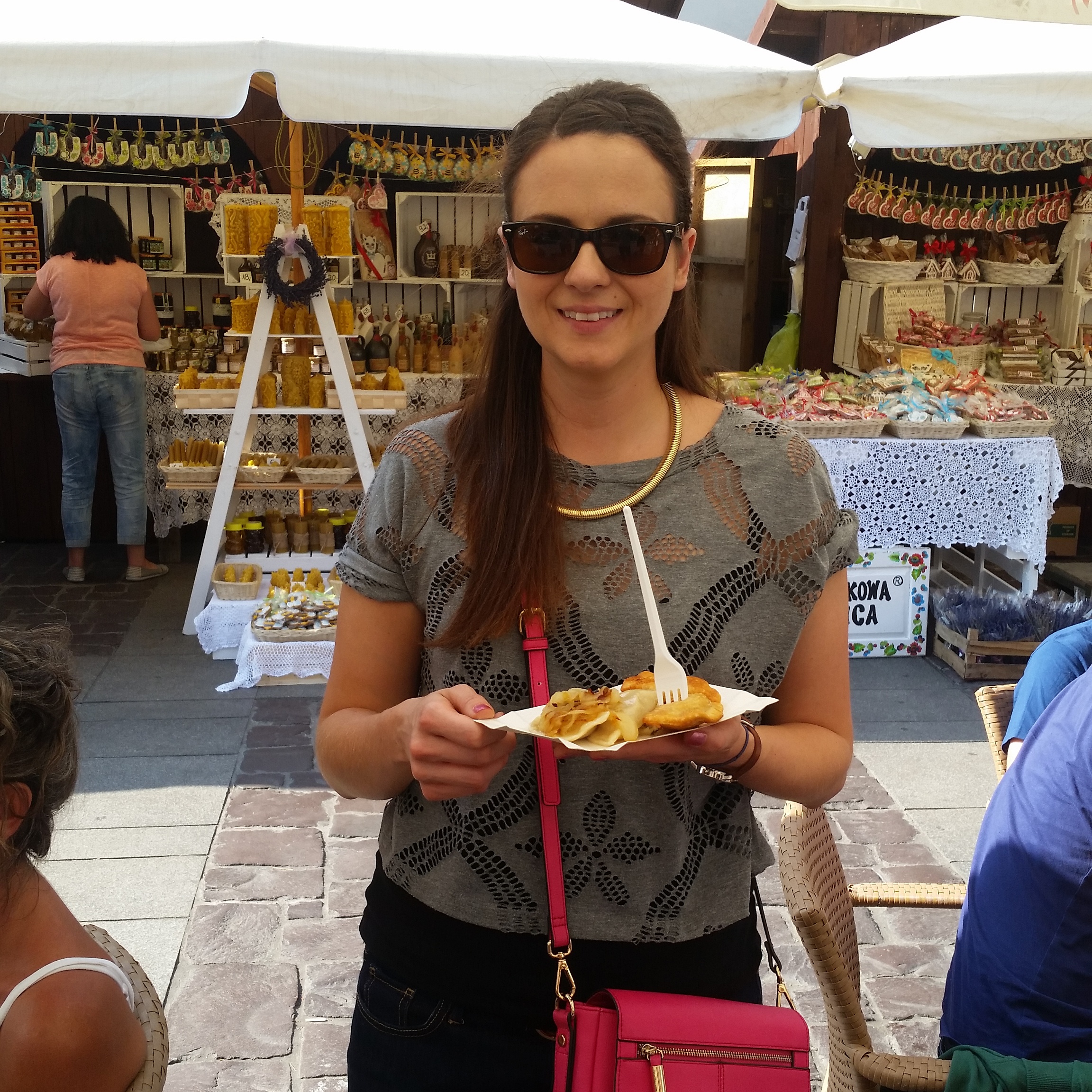 We spent an hour or so with the ladies, chatting about our plans for Krakòw and about what we did back home. Although their first languages being German and Swedish, we spoke in English, which they were all fluent in. David and I thought at the time that it is lucky that everyone spoke English but I actually think that works against us and makes people in the UK generally lazy about learning languages as we expect people to speak English everywhere we travel to.
As soon as the four ladies left the table, two men from Liverpool sat down and we started talking to them. They had been searching in vain for a bar that they had discovered on a first night and couldn't find again (I think too much beer consumed!).
Main Market Square
At about 4pm, we left the Liverpudlians and walked around the Main Square, stopping for a quick drink in Bulldog Bar mainly so David could use the toilet but also so I could get a cocktail as the last bar only sold beer.
St Mary's Basilica is on the Main Square. I was keen to climb the tower but there was a sign to say that it was sold out so probably one to plan in advance. Around the other side of the church we bought tickets for entrance (10 PLN or only 5PLN for David, wielding his new student ID) and went in to look around. It is a very impressive church and also very busy.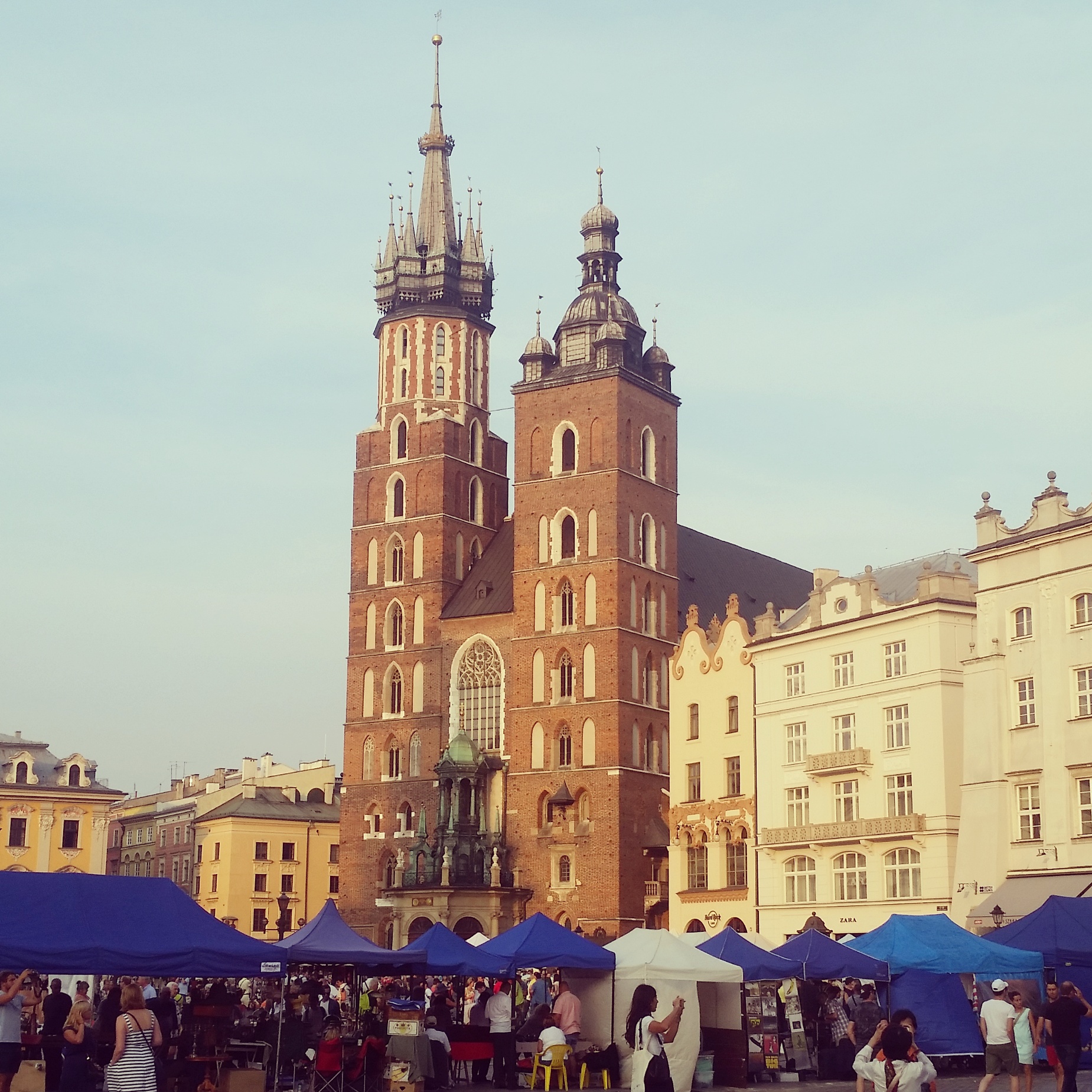 After the church, we had a wander around the Main Square, stopping to watch some live music and taking pictures of the Cloth-hall in the centre. It is a really beautiful Square with very picturesque buildings. Also very different (and much nicer) architecture to that of Nowa Huta which was built much more recently.
I had seen a highly rated vegan kebab shop called Vegab on TripAdvisor and decided to grab something to eat there before heading back to the apartment. It was less than a ten minute walk from the Main Square. We each ordered a vegan kebab in a tortilla wrap and they were huge and really delicious and only 13PLN (about £2.50) each. The city seems to be quite vegan friendly as we spotted quite a few vegan places.
We had to be back at our apartment by 8pm as someone was coming to collect the money for our accommodation so we walked back after Vegab, which took about 15 minutes.
A fun, sunny and very interesting first day in Poland!