A couple of days exploring the town on the Malaysian island of Penang – renowned for its street art and street food.
Saturday 10 – Tuesday 13 February
Accommodation: Hutton Lodge booked on Hotels.com. MYR 320 for three nights in a deluxe double room with bathroom, including a basic breakfast.
Exploring Malaysia
After finding out that I couldn't leave Malaysia during my stay due to visa restrictions (which was later lifted), we decided to spend a week exploring the Malaysian islands of Penang and Langkawi. I'm told there are much more beautiful islands to visit to the east (Tiomen was recommended by a few people), but it was a bad time to visit those due to the weather. I'd heard great things about George Town from my fellow wanderer Jane (Scottish Footprints) so we headed there in search of street art and street food.
Thanks to trusty Air Asia (Asia's budget airline which is a gazillion times better than Ryanair), we flew from Kuala Lumpur to Penang for only MYR 154.96 / £29.94 (for two people!), which took less than an hour. Arriving at Penang International Airport we tried to get an Uber to our hotel. After a few failed attempts, we decided to cross the street away from airport traffic and managed to get an Uber driver quite quickly. (Side note, Uber no longer exists in Malaysia so I'd recommend Grab).
George Town World Heritage Site
As with Melaka (covered in an earlier blog post), George Town was given the status of a UNESCO World Heritage site in 2008. Over the years, both George Town and Melaka have had a blend of influences – Malay, Chinese and Indian cultures along with various European colonial powers taking over things for quite a while. This has led to a melting pot of religions, ethnicities, cultures and food all within an interesting mix of architectural styles. Although Penang is the only state in Malaysia with a majority Chinese population, "it exemplifies the country's colonial past and mixed-heritage future brilliantly." (www.penang.ws)
Along with Melaka, I highly recommend a trip to Penang if you are visiting Malaysia. In my opinion, both cities represent Malaysia perfectly – a fabulous melting pot of religions, ethnicities, cultures and food. I'd recommend both over the ever-popular Kuala Lumpur if you're short on time.
Hutton Lodge
We stayed in a beautiful old colonial-style house, which is now the hotel, Hutton Lodge. It is very basic but in a handy location for exploring George Town on foot. Breakfast of two slices of toast and a slice of banana bread was provided each morning and the staff were friendly. We were expecting basic, which was fine, but there were a couple of downsides to the hotel – mosquitos and poor wifi. Mosquitos love to bite me so sharing our room with them wasn't an option. Luckily the hotel provided a can of 'Ridsect Advance' to guests which we used to literally fumigate the room. The wifi was poor throughout our stay, which was annoying when trying to plan our exploring.
I successfully managed some web research though and here's what we achieved with two full days in George Town…
George Town Street Art
Let's kick off with one of the things that George Town is famous for – its street art. Street art is dotted all over the town and makes for a fun task to track it all down – sort of like a retro version of Pokémon! There are actually some apps but I didn't find one that I'd recommend. There were a few George Town maps in our hotel and each had the street art included. I think street art spotting would be a great activity if you are taking kids to George Town.
We were familiar with some of the street art already and used our map to find the most famous pieces such as the two kids on a bicycle and the boy on a motorbike. There is a lot more street art than I expected, with welded iron wall caricatures as well as street murals. Many of the murals were hand painted by a Lithuanian artist called Ernest Zacharevic who took up a temporary residence in Penang. The art is said to mimic life in the city and is a really clever tourist attraction.
I absolutely loved how the street art was 3D and you could take fun photos, posing alongside the characters in the murals – for example sitting on the swing beside kids or playing basketball with them. A few were hard to spot…but you know you'd found street art when you saw a group of people hanging around a small side street, snapping photos! (more info about the street art)
Red Garden Food Paradise
And the second this Penang is renowned for – its street food! We were keen to try some out…however as veggies, we often feel like we're missing out (especially in Malaysia – the land obsessed with eating chicken!). Red Garden Food Paradise was listed online as a great place for street food so we ventured there in search of food one evening. And what a great evening out it turned out to be!
The place is a huge covered area with tables in the centre and food stalls all around the outside. You find yourself a table and a waiter provides table service for any drinks you want to order. For food, you can look around the stalls ordering from any that take your fancy. The selection was huge and there was probably 30 places to order from, ranging from curries to pizza to bird's nest. (Bird's nest is an expensive Chinese delicacy, which is actually made from the saliva of a swiftlet bird. Despite its apparently health benefits, this completely freaks me out and was not tried!). We spent a good few hours there, grazing tasty food from a variety of stalls and having a few drinks.
To top things off there was live music in a stage in the centre of the room to entertain us along with people watching. Based on their Facebook page, I think that Red Garden Food Paradise is only open in the evenings from 5.30pm and I'm not sure if the live music is every night.
Chew Jetty
Aside from the street art and street food (which both lived up to the hype), my favourite place we visited in Penang was Chew Jetty. At the waterfront, there are six clan jetties, which are traditional settlements created by Chinese immigrants in the 19th century. Named after each clan's surname, each Clan Jetty has a number of houses on stilts in the water. Chew Jetty is a UNESCO World Heritage Site and the most tourist-friendly of the Clan Jetties. It has with 75 houses and a few places selling souvenirs and food. Remember that people live there so be respectful when taking photos.
Just off the actual jetty, we went for lunch to try white curry mee, which is a sort of white curry noodle soup with seafood. We went to Chew Jetty Cafe. It's a pretty basic restaurant but the food was good.
Kek Lok Si Temple
We only ventured outside of George Town twice during our stay in Penang – once to visit Kek Lok Si Temple and another time in search of a beach. Malaysia has no shortage of temples – mosques, Buddhist temples, Hindu temples and a few churches – so we had seen many on our travels but Kek Lok Si is the largest Buddhist temple in Malaysia so we decided to visit. Plus, our visit to Penang was a few days before Chinese New Year and our hotel receptionist told us that it would be all lit up for the occasion.
It gets dark at around 7.30pm (I don't think this varies much throughout the year) and we timed our visit to Kek Lok Si well to see all the lights, arriving at about 6.30pm. Unfortunately, we timed our visit badly for actually getting inside the temple, which shuts at 6pm – doh. The temple looks absolutely amazing from the bottom of the hill and it was disappointing not to be able to explore properly.
There is a big 'Liberation Pond' at the bottom of the hill, full of turtles. Apparently turtles symbolise longevity, strength and endurance and freeing one symbolises spiritual liberation. However, if you're hoping to rock up with a turtle to release for your spiritual liberation, think again – there's a big sign saying 'Strictly no liberation of tortoises into the pond.' There was a man selling vegetables to feed the turtles when we arrived (he packed up soon after) and we spent some time feeding the turtles while we waited for the lights to come on. Now, I am very fond of turtles and we actually have a little turtle called Sam who has lived with us since we rescued him from someone who wasn't looking after him properly about three years ago. However, the turtle pond freaked me out. There are literally hundreds of turtles, all climbing over each other (in their slow way) to get to the food being thrown in. Individually, they are cute but hundreds of anything is freaky and it made my skin crawl a bit.
At about 7.30pm, it started to grow dark and lights came on all over the temple. It was a beautiful sight and I wish I'd had a better camera to do it justice. We had to an Uber to Kek Lok Si and decided to try and get the bus back to George Town. We managed to catch a bus quite quickly and it took about an hour to get back to our hotel.
Other temples
Aside from the lovely Kek Lok Si, within George Town itself there is Masjid Kapitan Keling (the biggest mosque in George Town) and Sri Mahamariamman Temple (the oldest Hindu temple in Penang). I don't think the mosque was open to the public when we were passing so we didn't see inside. We did have a quick look around the Hindu temple which was lovely and colourful.
Upside Down Museum
George Town has a big selection of absolutely random museums. We spotted a ghost museum, a chocolate and coffee museum and a wonderfood museum on our travels. I feel Malaysians use the term 'museum' very loosely! I'd seen photos of people at the Upside Down Museum which had really amused me so we decided to make that our museum of choice.
Although the photos we got were as ridiculously hilariously as I'd hoped, the experience was a little disappointing as we were rushed through the museum. At each room, one member of staff told us where and how to stand while the other snapped a few photos and then we were moved on to the next room. I appreciate that this needs to be done to keep people moving through the museum and preventing backlogs but it would have been more fun if we'd had time to play in each upside down room. Despite that, I'd still highly recommend for amusing photos.
Head to the beach
We decided that we wanted to chill at a beach for a while and followed Google Maps to a place clearly marked as 'beach'. When we got there, all we found was a wall then the sea – no beach! (I don't think this was a tide-in situation). We ended up getting an Uber and asked the woman driving us if she could recommend a beach for us to go to. She took us to the Four Points by Sheraton Penang hotel and we walked through the lobby acting as if we were guests and chilled on their guest beach for a while! We even lay on some of their comfy bean bags and borrowed the toilets by their pool!
On arrival at the beach we spotted a sign warning of jellyfish in the water. This mentioned 'perform resuscitation if necessary' so these jellyfish weren't kidding about. Needless to say, we stayed out of the water.
Purrfect Cat Cafe
I wouldn't put this as a 'must visit' if you're in George Town but we spotted Purrfect Cat Cafe while walking around and decided to pop in for a visit. If you're a big fan of cats (like my cat loving husband!), then it's a nice place to chill out for a while with lots of cats snootily ignoring you unless you have treats (as cats do!).
Jubilee Clock Tower
More of a 'just in passing' tourist attraction, the Jubilee Clock Tower was built to commemorate Queen Victoria's 1897 Diamond Jubilee. It's very close to Fort Cornwallis if you're going to visit there. We didn't, which takes me nicely on to places we didn't visit in Penang…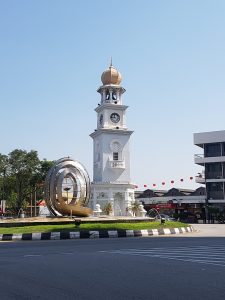 Other ideas…
Some places that we didn't make it to during our visit to George Town were:
Fun fact
Let's finish with a fun fact for my Scottish (in particular Edinburgh) readers! A few of the streets in Penang have Scottish links, for example Jalan Scotland (Scotland Road) and Lebuh Leith (Leith Street) – though I think that was actually named after an English guy.