Two days exploring the stunning Isle of Skye, visiting Uig, the Fairy Pools, Old Man of Storr, Portree, Neist Point and more.
Thursday 21 – Sunday 24 September 2017
Accommodation: The Cowshed Boutique Bunkhouse, Uig. £60pp for bed in six bed dorm, booked directly at www.skyecowshed.co.uk.
A Scottish adventure
I am Scottish and have lived in Edinburgh for the majority of my life but, shamefully, have done very little exploring of my own country. One thing Scotland can definitely not offer is the promise of sunshine and I tend to be lured to sunny European countries with cheap and relatively short flights.
However, photos of the beaches on the Isle of Harris popped up on my social media feeds a few times and I mentally added them on to my ever increasing 'must visit' list.
So, back in January, when my buddy Lauren and I were in a bar and she drunkenly demanded that we plan a trip this year, I didn't take much convincing and suggested Harris. Fast forward nine months and we had a trip planned to the Isles of Skye, Harris and Lewis and had talked our other friend Lou into coming along for the adventure!
We had actually initially planned the trip for August but were convinced to change dates by my colleague (and Skye resident) Frank who warned us about the hordes of tourists and, even worse, the Scottish midges!
Scenic drive
According to Google Maps, the drive from Edinburgh to Skye takes about six hours. That clearly doesn't incorporate us losing GPS signal or stopping to take photos at numerous points on the drive! We stopped at Blair Atholl at a small petrol station where we bought a map of the UK (and cast our minds back to pre-SatNav to remember how to read a map…) in case the lack of GPS ended up with us being completely lost. We also stopped at Loch Garry along the way to admire the scenery.
Not long before the Skye Bridge, we reached Eilean Donan Castle. More view admiring and photo taking and we were back on our way.
Cowshed Bunkhouse
Arriving on Skye, we drove north to Uig where our home for the next three nights would be. We parked at the Cowshed Bunkhouse, which is on a hill overlooking Uig Port. The sun was shining and the CalMac ferry was in – the view was absolutely stunning.
I'd describe the Cowshed as a super swanky hostel. We each had a bunk within a dorm of six. There's also the option to rent a wigwam or, if there's four of you, a private dorm style room. In comparison to hostels I've stayed at in the past, the private shower rooms are luxurious and there's a lovely big open plan kitchen/dining/lounge area for cooking, eating and socialising. It was a little more subdued than I expected, which suited us. I guess that just depends on who is staying at a particular time.
Uig
Uig is a tiny town with not much more than the port, a petrol station, a few little shops and a couple of bars/hotels. On the recommendation of people working at the Bunkhouse, we wandered five minutes down the road to get dinner in the Uig Hotel. The place was full (not many other options!) so we put our name down for a booking a while later and went back to the Bunkhouse in the meantime. If you're planning to go, I'd recommend booking in advance.
I've been following a vegan diet since the start of the year and expected to have to relax things on the remote islands. However, I was surprised and happy to see there were plenty of vege options and one actually marked as vegan! Generally on Skye I found it very easy to find vegan choices.
After dinner we wandered back to the Bunkhouse (sporting some high vis vests at the hotel's suggestion, so the very infrequent cars would spot us!). With no light pollution and a clear night, the stars were phenomenal! I convinced the girls to lie in the grass and star gaze with me for a while before we got too cold!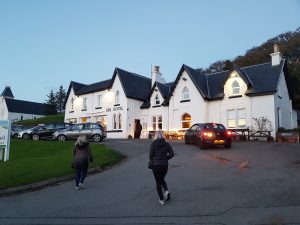 Exploring the north of Skye
After breakfast in the Cowshed the next morning, we jumped into Furio (Lauren's Fiat 500) and headed north, armed with a map of the island. After assuming that a road was too small to be the one on our map, we had soon gone further north than planned and took the more scenic, coastal route stopping a few times for our resident photographer, Lou to take photos of a remote phone box and chase a few camera shy sheep.
Quiraing
We soon found a sign for Quiraing and turned off the main road to climb between the hills. Known as some of the most spectacular landscapes in Scotland, Quiraing is part of the Totternish ridge and a landslide had created a dramatic landscape with cliffs. We parked in the big lay-by where there is a small food van and spent about 10 minute admiring the scenery. The weather at this point is what I'd class as 'typically Scottish', which gave Quiraing a moody feel as we braced against the wind and rain.
Kilt Rock
Next on our itinerary was Kilt Rock, which is a cliff and waterfall resembling a kilt. This had a big car park and another food van and was busy with tourists peering over the barriers to look at the rock.
Old Man of Storr
Further down the east coast, we reached a car park for the Old Man of Storr. We asked a few people how long the walk would take us and they said about half an hour which was an underestimation. The climb was uphill along muddy paths and climbing over some rocks. Eventually we looked up to see a very massive and precarious rock towering over us! It took about 45 minutes to where we stopped (just below Storr and not the top of the hill). As we started to descend, the Scottish drizzle started and we were a bit soggy by the time we got back to Furio.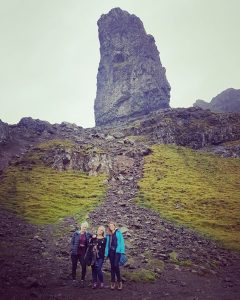 Portree
Our next stop was the village of Portree. I'd told my colleague Frank we were on the island and he said to visit him in his office which was above the bank. We spotted an RBS and went into ask if there was offices above. The man said no, but there were offices above the Bank of Scotland and gave us directions. I asked how long the walk would take and laughed when the guy replied very seriously "it's a village…" I was obviously over estimating the size of Portree! A few minutes' walk and I found Frank in his remote office to say hello. Doubt he gets many colleagues popping by!
Frank recommended Cafe Arriba for lunch (just a few minutes' walk away!) so we walked there and waited for a table. The Skye Festival was due to start the next day so the village was much busier than usual. Again, a few vegan choices including a few non-dairy milk options for coffees – better than most places in Edinburgh!
After lunch, we walked further up the road to see the colourful houses down at the sea front that Portree is famous for. I love a colourful building!
After a fab first day exploring Skye, we stocked up for dinner at Portree's Coop and drove back to the Cowshed for a leisurely night playing board games with a nice Spanish lass called Elena who was also staying. Elena had been out exploring Skye too but by public transport which sounded very difficult. If you're going to Skye, I'd highly recommend taking a car. If that's not possible, there are some bus tours that you can do, which your accommodation will have details of.
Day 2 exploring Skye
After typical Scottish wind and rain during our first day on Skye, our second day had the most insane wind I have ever experienced! I'm no meteorologist, but I recon we can't have been far off a typhoon! In fact, I climbed Mount Fuji during a typhoon a few years ago and the wind had nothing on this.
Fairy Pools
We climbed in trusty Furio and drove south from Uig, heading towards the Fairy Pools. I had been put in charge of navigating with our actual paper map but was soon sacked after taking us the wrong way. Apparently my Standard Grade in Geography is completely meaningless. Lou (with no Geography qualifications) took over and successfully got us to the Fairy Pools, after a few stops for sheep on the road!
Arriving at the Fairy Pools, we couldn't believe how busy the place was. The small car park was full and cars and camper vans were parked all along the road overlooking the area. The Fairy Pools are absolutely stunning so I can see why so many people want to visit but also find it a little sad that so many people are now trampling the land around them.
We saw a few groups of people (nutters) who stripped down to their swimsuits and took a dip in the pools. I doubt that would be enjoyable even at the height of Skye's summer but something to tick off your bucket list!
We spent about an hour and a half wandering up to the top of the Fairy Pools and back down, snapping lots of photos on the way.
Heading back to the main road, we spotted a sign for the Old Inn and decided to stop for lunch. A cosy pub overlooking a loch made for a nice shelter from the wind. It was packed full of tourists and a few locals chatting to them. There was lots of options on the menu (including a vegan curry!) and the food was lovely.
Neist Point
When we had thought that the Fairy Pools were insanely windy, we clearly hadn't yet been to Neist Point! Neist Point is on the most westerly tip of Skye and is really exposed to the elements! We parked at the top of the hill and followed the path down lots of steps and along to Neist Point lighthouse which sits on the point. The lighthouse was built in 1900 and was once manned but is now automated. The walk from the car park is about 2km so it's very remote.
Clinging on to the railings at points, we all avoided the cliff edges as we walked along wondering how the sheep didn't get blown over the edge. We did see a seagull trying to walk in the wind which was quite amusing but the sheep just kept munching grass at the cliff edge. We could stand facing into the wind, fall forward and the wind would push us back up. This kept us entertained for a while!
Although much quieter than the Fairy Pools, we saw quite a few people walking down to Neist Point lighthouse. We all looked a little windswept when we got back to Furio!
Skye Museum of Island Life
On our way back from Neist Point, we stopped at the Skye Museum of Island Life. There didn't seem to be anyone around so we just had a quick look around the big cottage by the car park and continued on. Looking at the website now, I think we were about 20 minutes after closing time and broke in – oops!
Back to Uig
We got back to Uig and went to the petrol station to fill up before leaving for Harris in the morning. We were going to arrive on Harris on Sunday and expected most places to be closed so got a bit panicked about having no cash on us. We bought some things from the petrol station and got cash back. Lou and Lauren were on the hunt for a chippy and asked the woman in the petrol station if there was one nearby. She gave us a menu for a place back up the road, suggesting we call to order before going. We phoned and placed an order and then drove there to find a chippy van in someone's garden – the guy had popped out of his house to cook the food when we called!
We took the food back to the Bunkhouse and had dinner and a few drinks while playing games. One of the Bunkhouse staff, Rachel, who was spending two months travelling around Scottish islands, had recently visited Harris and Lewis. When I was heading to bed she gave me two sheets of paper with loads of tips and directions for us, which became our itinerary for the next few days!
Fairy Glen
As we were leaving Skye for Harris on Sunday, the earliest ferry left Uig at 14:15 and arrived at Tarbert at 15:55. After packing up our stuff, we walked down the hill and followed the road along to the Fairy Glen, which took about 30 minutes.
When we got to the end of the road, we had hills on either side and had no idea which way to go to get to the Fairy Glen. Luckily, soon after we arrived, an actually fairy appeared out of a car and we followed her assuming she knew where she was going! Eventually she led us to a clearing between the hills with a circle of rocks and we watched from afar as she set up a camera to take photos of her as she skipped around the rocks!
Though not as spectacular as the Fairy Pools, the Fairy Glen has lovely scenery and you can climb to the top of one of the little hills to get views over the landscape. It's very narrow to get up there and tricky to wedge yourself back down! Unfortunately I don't think there's any links to fairies at either the Glen or the Pools but they both look quite magical.
CalMac
We wandered back along to the Bunkhouse, loaded up Furio and drove down to the port in Uig. After checking in, we queued in the car for a while before being directed on to the boat. Luckily, the winds from Saturday had died down so we were in for a smooth crossing. Feeling very proud of our beautiful wee country, we stood at the back of the ferry and waved to the stunning island of Skye.