Saturday 13 May 2017
Exploring Shanghai
Saturday was my only full free day in Shanghai so I had to make the most of it! Using the help of TripAdvisor for ideas, I decided on a bike tour so I could join a guide and see some places I might not have found myself. I went with Wheely Bike Tours and booked the Shanghai Highlight tour by email. The tour was ¥300 and lasted about four hours.
After one failed attempt, I got a taxi to the meeting point with the help of our guide Allen speaking to a man at my hotel reception and him explaining the location to the taxi driver. I was met by Allen and two others on the tour – a woman from Germany and a woman from Bulgaria.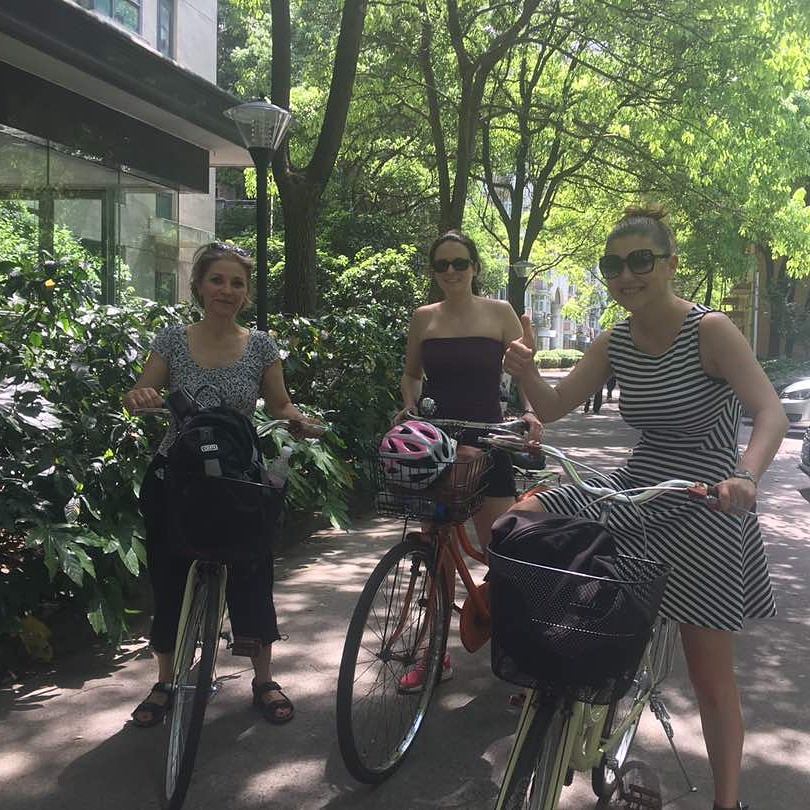 Allen took us down to the car park of a building where we picked bikes. Helmets were optional but I'd seen the drivers of Shanghai and decided wearing one would be sensible! There are cycle lanes but these are also used by scooters, sometimes driving in the wrong direction.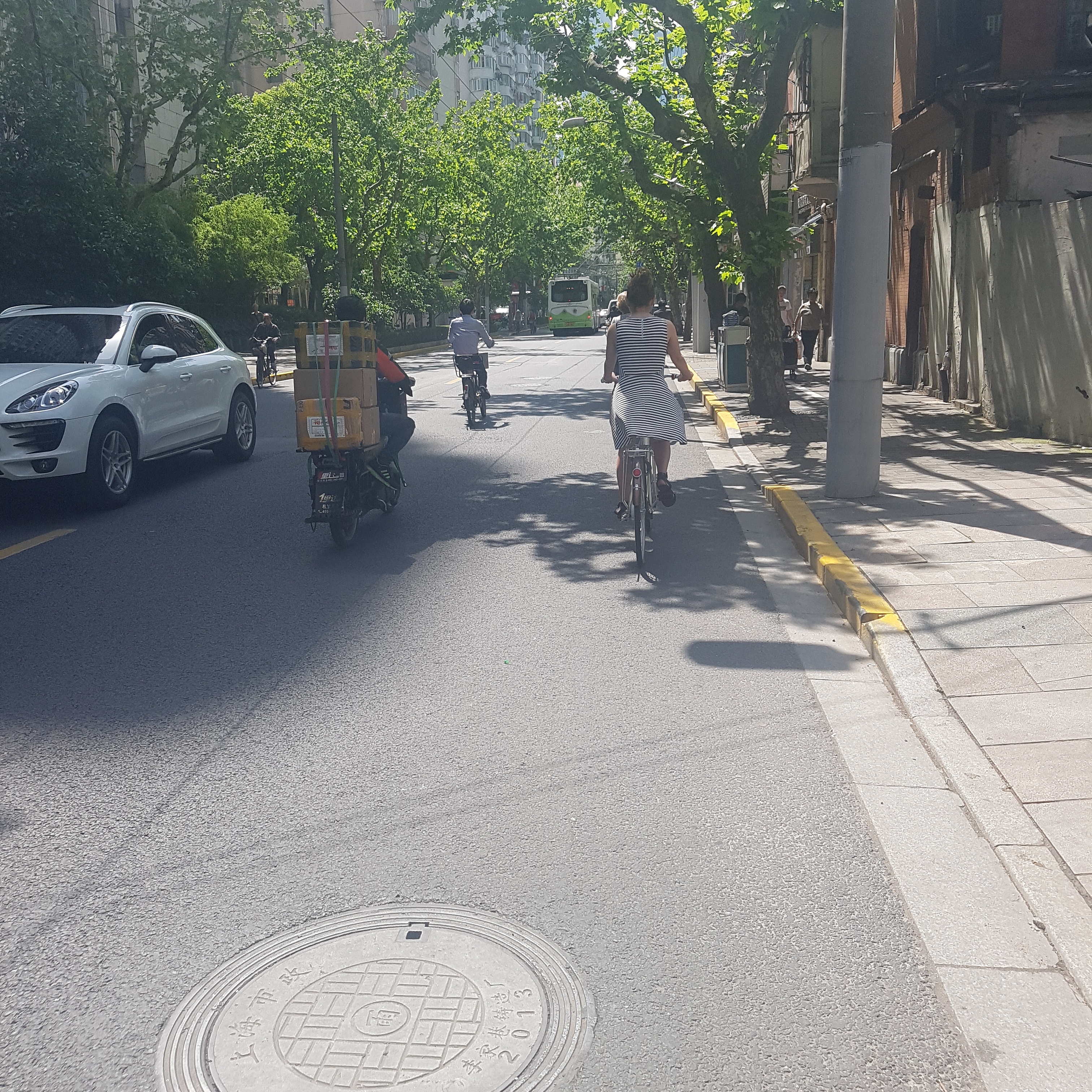 Lilongs
Following Allen, we headed for our first stop – the Lilongs of Shanghai. These are the old style alleys with family housing. Last century, 80% of the population lived here but now there's loads of skyscrapers, which can be seen at the end of the alleys. Though apparently very expensive to own, the houses are small with families sharing kitchens and bathrooms. There were lots of people hanging around and I think there would be a good sense of community living there.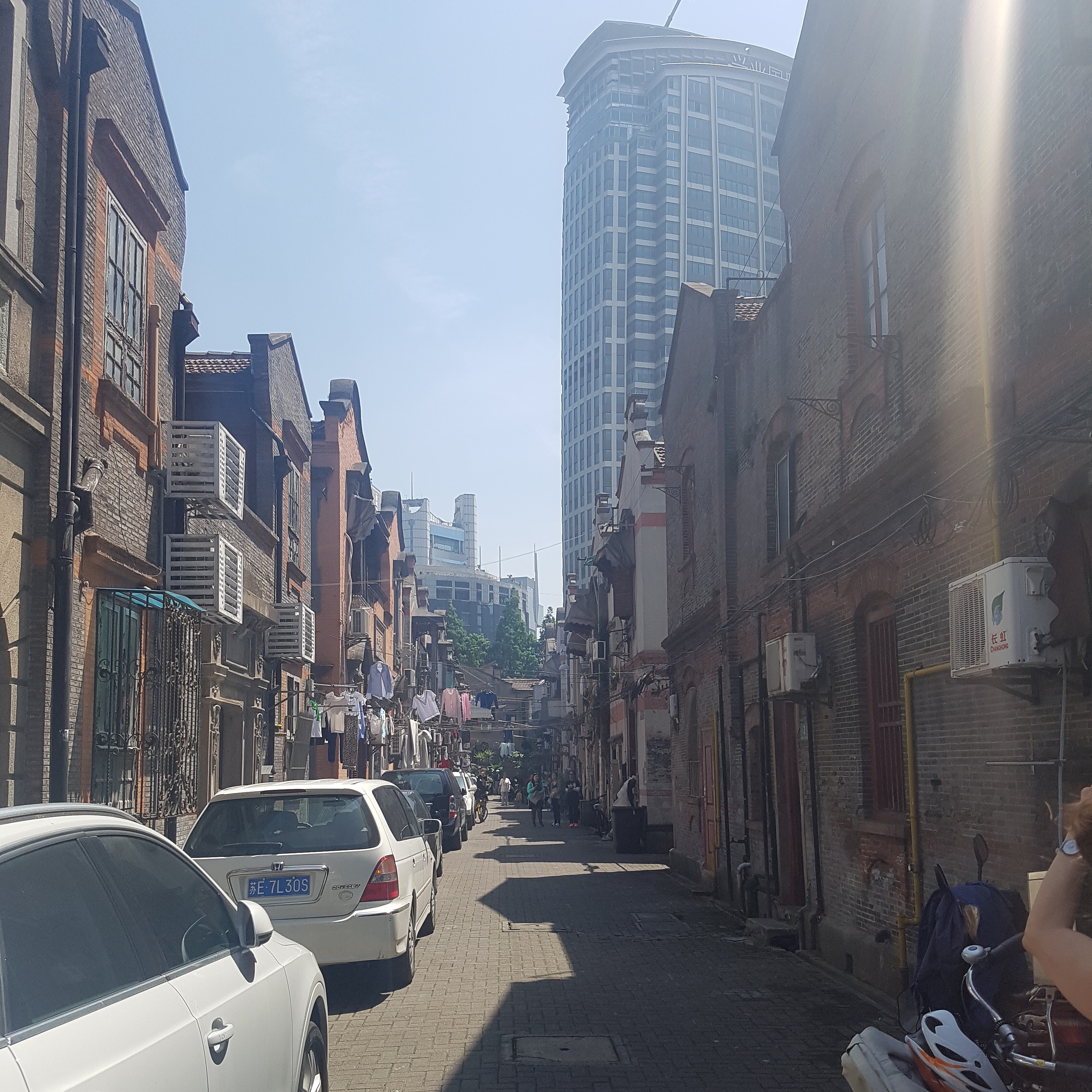 We hopped off our bikes and had a wander around a few of the lilongs with Allen pointing out various features. There are boxes on the walls beside front doors which is where milk would be delivered. People used to drink mainly soya milk but have started to use cow's milk more as it is used by westerners so people think it is better. Funny, as more and more people in the west are swapping to alternative milks like soya and almond milk.
It was a hot day and there were a lot of people sitting outside. Some people were painting pictures of the streets.
There was washing hanging up from all the buildings to dry. Allen pointed out some red knickers and told us that those born in the Year of the Rooster wore red underwear during this year (of the rooster) for good luck.
There were also some signs that I asked Allen to translate. He said that they basically told residents not to join a cult.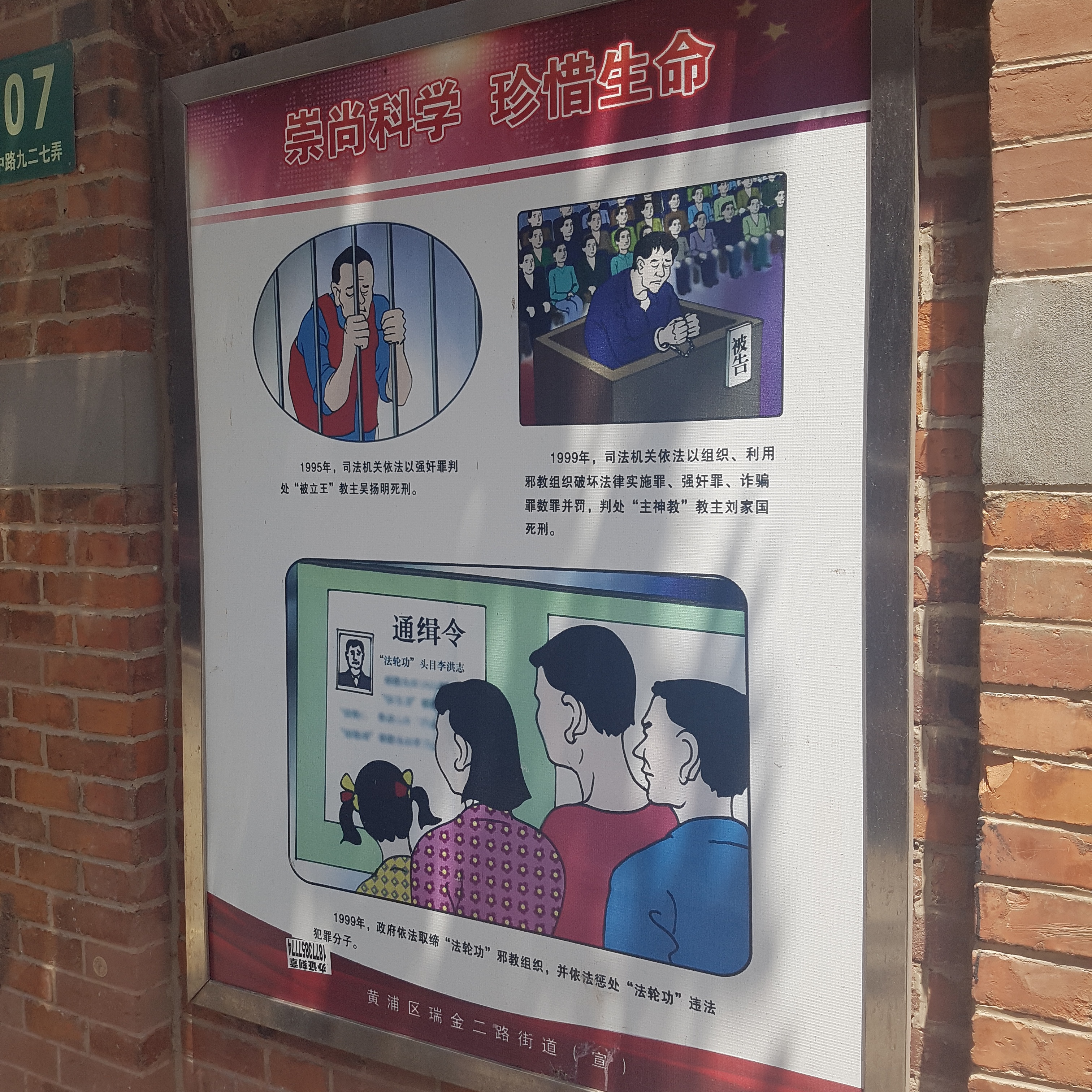 Fu Xing Park
Next up on our tour was Fu Xing Park. We left our bikes outside the park and walked in. Pretty soon I decided this was my favourite place in Shanghai (even though I obviously hadn't seen all that many places)! The park itself is really nice but what I loved was how all the retired people came here to hang out and do lots of different activities.
We walked by people doing Tai Chi and joined a big group of people watching a man playing the saxophone. Everyone was having a great time, enjoying the music.
Continuing further into the park, there was a little band stand where someone had set up a drum kit and was playing. There was a sign attached to the drum kit to say 'free to dance' and couples were up on the stand dancing away and having fun! Being both foreign and under the age of 60, our arrival was noticed! After watching the dancers for a while, a man wearing white trousers and a shirt with zebra print asked the three of us if we wanted to come up to try. The other two girls shook their heads but I though 'why not!' and got up to join them! I had heard about the old dancers in the cities but didn't expect to be joining them! After the song I went back to the group. Another man asked me to dance but I politely declined and we moved on.
We walked past big groups of men gathered around a table where four or five people were playing poker (apparently gambling under the table), a man giving another a shoulder massage and some more Tai chi.
There were big groups huddled around various areas chatting. Allen told us that each day the newspaper would be posted up in the park and people would read the news and then get together in different sections to talk about the issues. One area for politics, one area for the stock market etc.
There were also a couple of men writing poems in calligraphy on the ground using water, the words disappearing in the sun.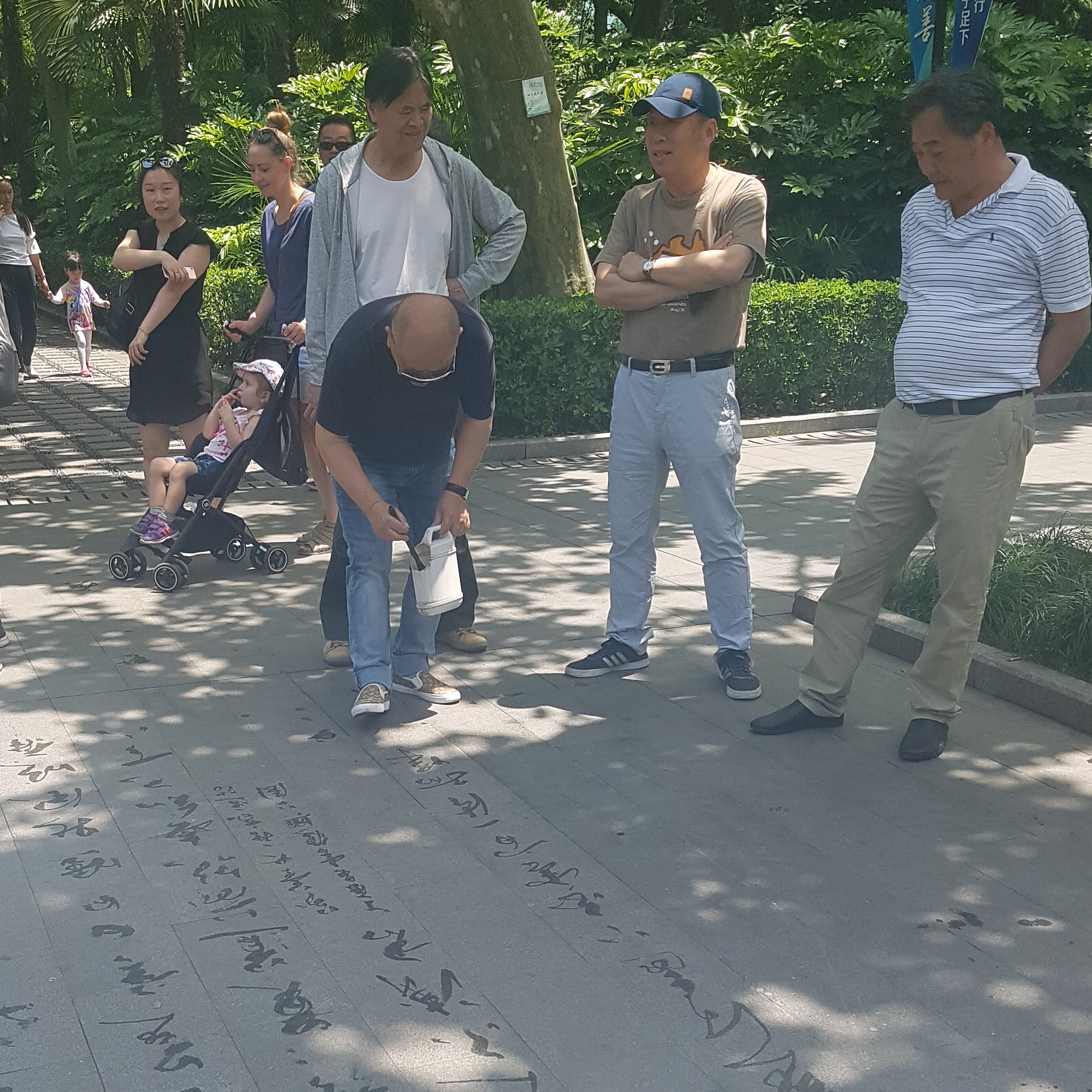 A few people asked us in English where we were from, one man telling me that he had been to London once.
What a fabulous place! I could have stayed there all day people watching. It was a great insight into Chinese culture and the lives of retirees in Shanghai. It looked like a really fun place to retire!
Chinese pancakes
We left the park (reluctantly!) and returned to our bikes. The next stop on our tour was to sample Chinese pancakes and Allen took us to what was apparently the best place in town for them.
Chinese pancakes are made from egg, pork and spring onions. I asked Allen for one without pork and so did the other two girls. Turns out the other two girls were veges too and Allen was stunned! The woman at the shop made three pancakes from scratch for us, without pork. Only ¥3 each and very tasty.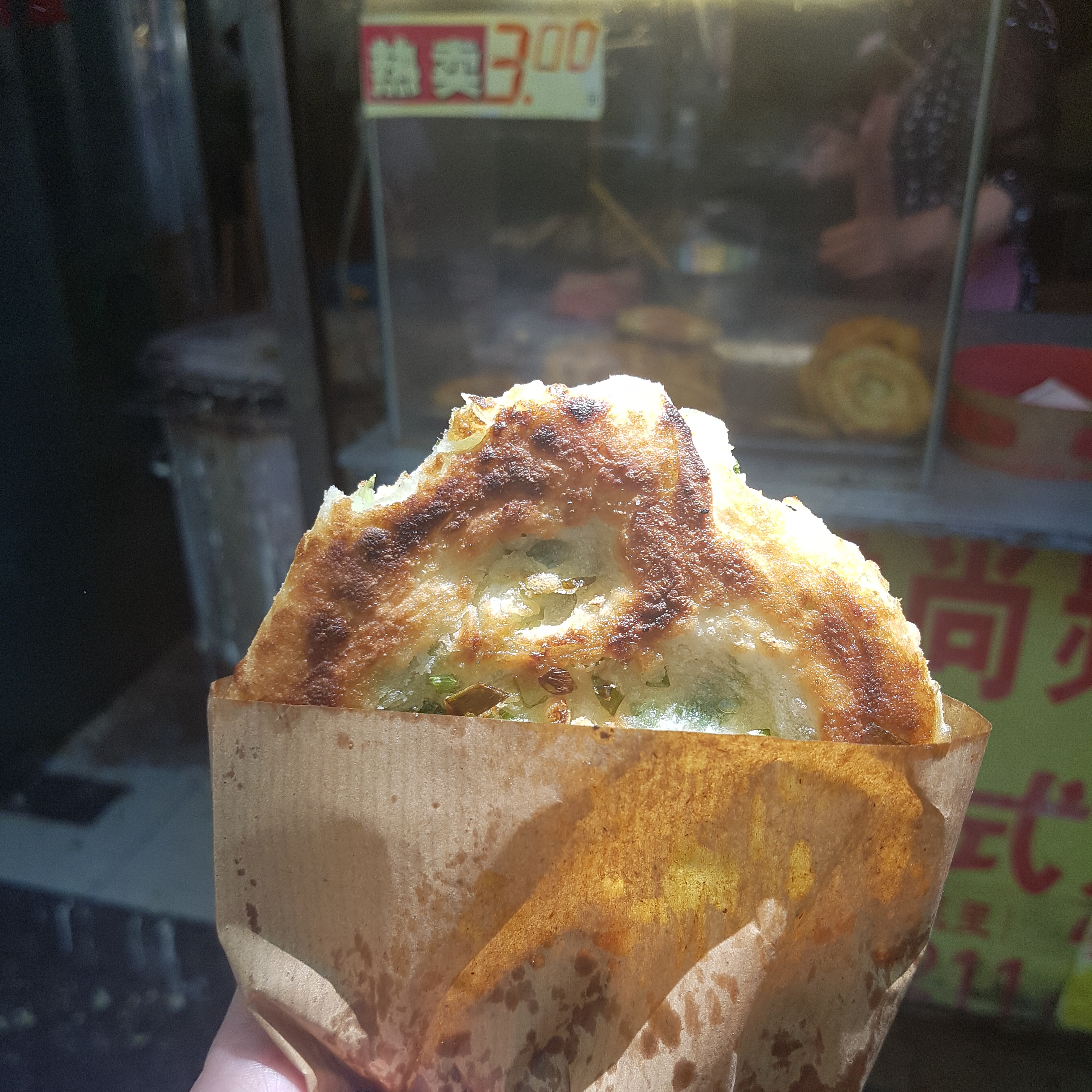 Bird and Cricket Market
Next up on our tour was the Bird and Cricket Market. After deciding that Fu Xing Park was my most favourite place in Shanghai, I had found my least favourite.
The main thing for sale in the market was crickets. People enjoy the noise of crickets so will buy them to hang at home. The crickets were alive and in tiny little balls or boxes. It was just so cruel and unnecessary to keep something trapped in a tiny box just so they can enjoy the noise.
There were also birds in cages that people could buy to take home. The sounds of the crickets and birds wasn't very pleasant after a while.
Another thing on sale was turtles, which were kept in tiny bowls. We have a turtle at home in a huge big tank which I always worry is too small but felt Sam has a luxurious life after seeing these poor guys. I like to to think that they were available for people to buy as pets (and they'd get a big tank at home) but I'm not sure if that's the case.
There were a few big cages with kittens, rabbits and some tanks of fish. It was a hot day and the market was so warm that most of the animals were sleeping. I was very happy to leave and get away from the noise of crickets and restrained myself from buying loads of animals and setting them free.
Temple
We came to the end of our tour, said goodbye to Allen and walked together to the nearest metro station. Waving goodbye to my fellow foreigners, I got the metro to Jing'an Buddhist Temple. The temple is situated right beside one of the busiest streets of Shanghai. Although beautiful from the outside, it is surrounded by shops and malls.
For ¥50 you can go inside the temple which was quite quiet considering the crowds outside. I spent about 45 minutes inside, wandering around the rooms and watching people in the central courtyard lighting incense and trying to throw money into the large shrine in the centre.
People's Park
Leaving the temple, I hopped on the metro to People's Park. I found the entrance and wondered why the park looked so busy. When I went inside, I could see rows and rows of umbrellas laid open on the group with sheets of paper covered in writing attached. I'd read about this before – it was China's answer to Tinder (which is no doubt blocked)!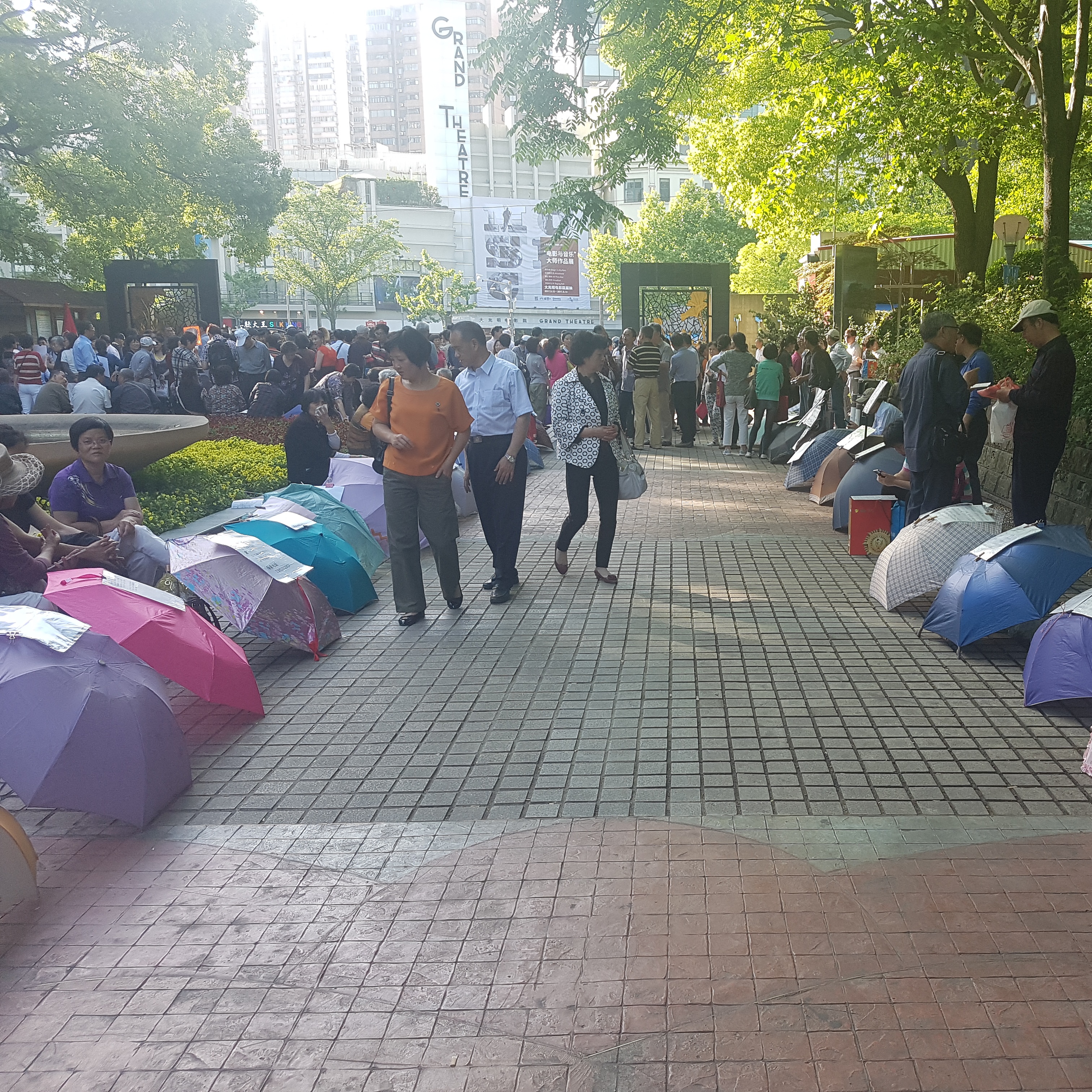 The parents of people in their late 20s (gauging from info on the umbrellas) would come to the park and advertise their child's stats on an umbrella – age, height, weight, job – along with what they are looking for in a partner (according to the parent).
A few had photos but it was mainly just text and I saw a few people showing each other bundles of photos, presumably when a match was possible.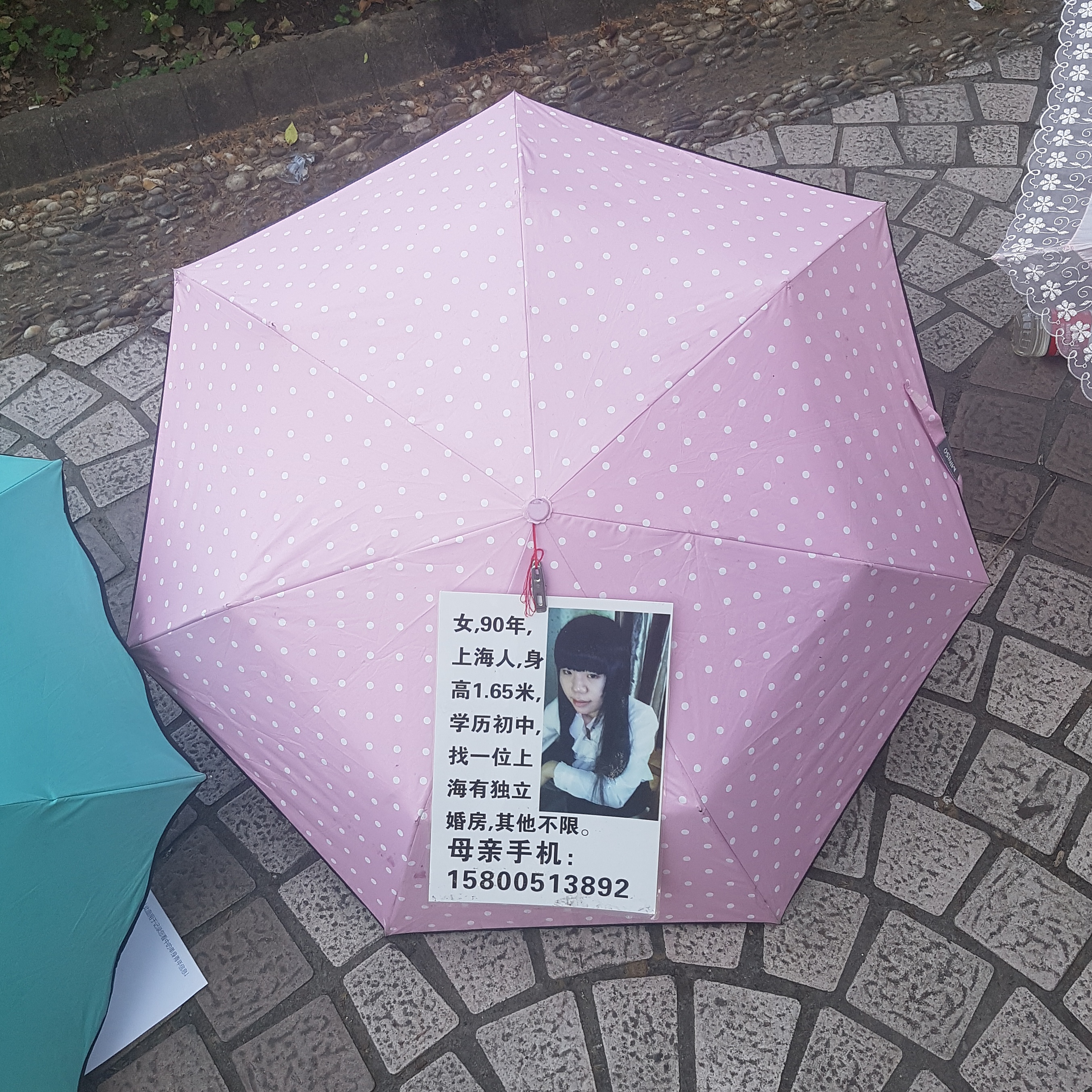 I was excited to actually see this after having read about it and think I just stumbled upon it by luck as I happened to be in the park at the right time (Saturday, about 4.30pm). I think this is also a social activity for parents and they were all chatting to each other while sitting behind their umbrellas.
I had a wander around for a while around for a while thinking that there must be so much parental pressure to settle down and get married in China. The rest of the park had some nice little lakes, amusements and a work out area.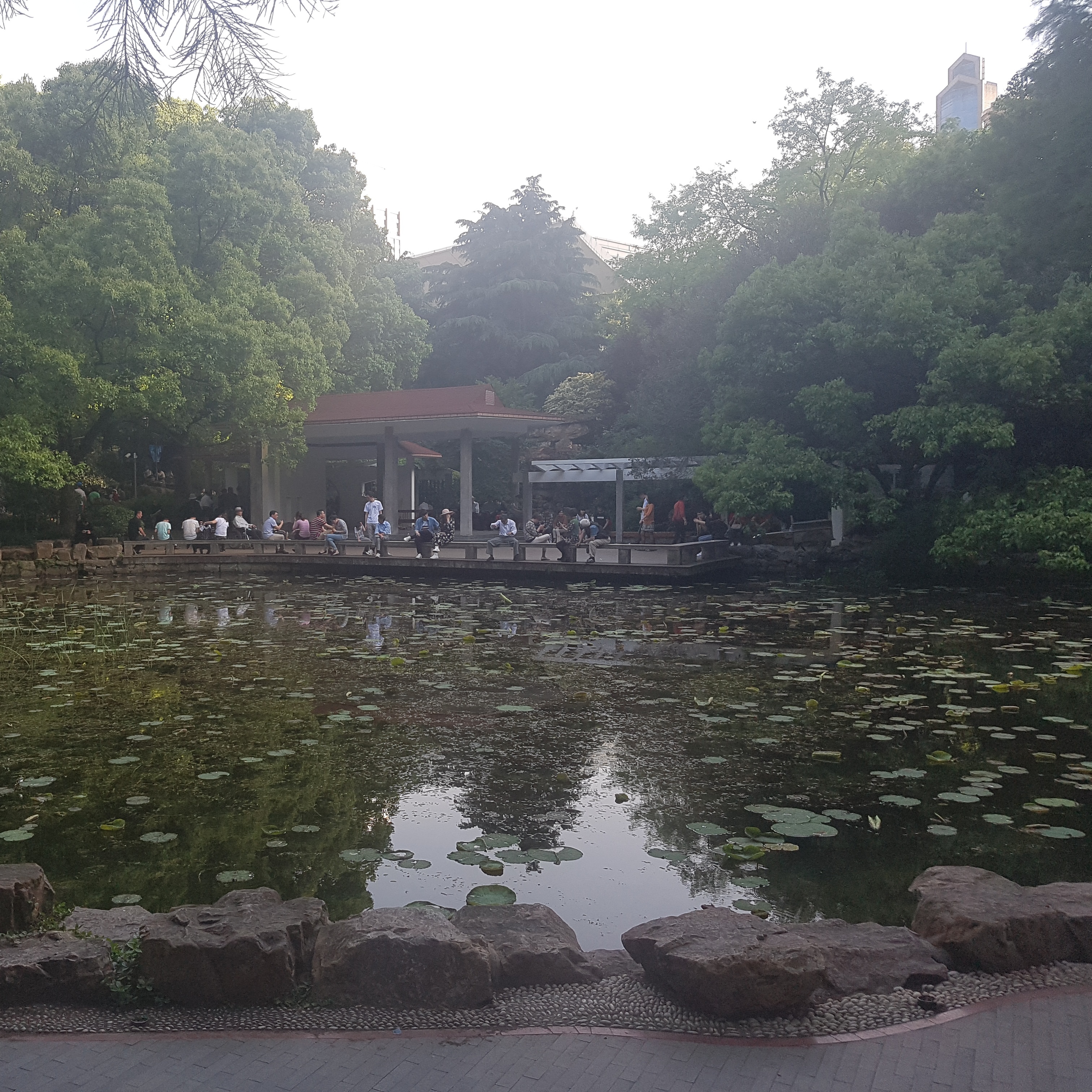 Shanghai Tower
The last stop on my one day tour of Shanghai, was to go over to the East side of the river and see the view of the city from Shanghai Tower. I didn't realise until I was there that Shanghai Tower is the second tallest building in the world after Dubai's Burj Khalifa. Shanghai also has the 6th tallest building – Shanghai World Finance Centre – which is right next door and resembles a bottle opener.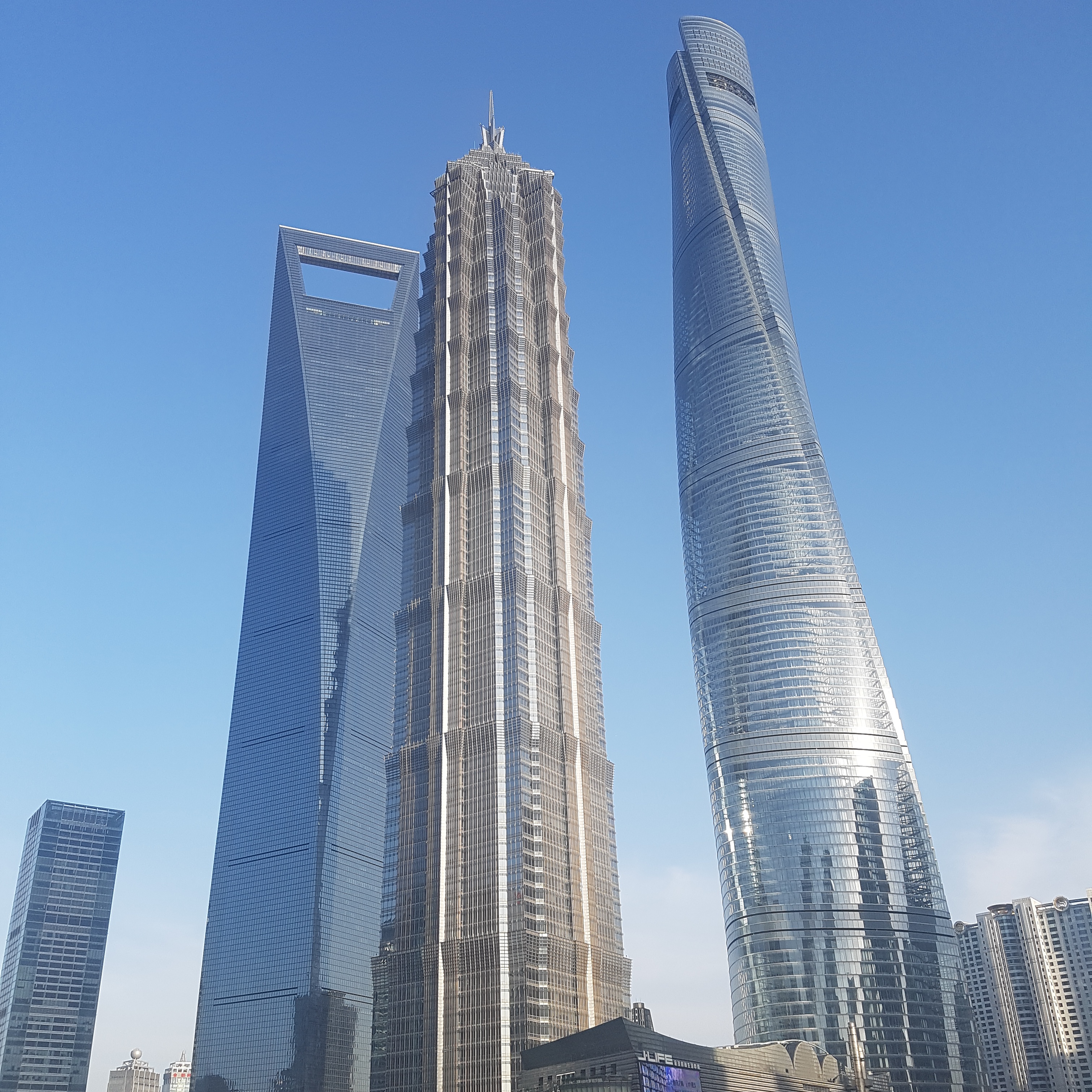 Once you get out of the metro station, there's a high walkway with clear directions of how to get to various places, including Shanghai Tower. For ¥180, you can get the lift to the 118th (of 128) floor. I went at about 5.30pm and there was no queue. I'd heard that going up about 6.30pm was a good time as it gets dark about 7.30pm so you could see the view both in the daylight and darkness.
After I bought my ticket, I had a look around the exhibition on the ground floor which gives information on the world's tallest buildings and the building of Shanghai Tower.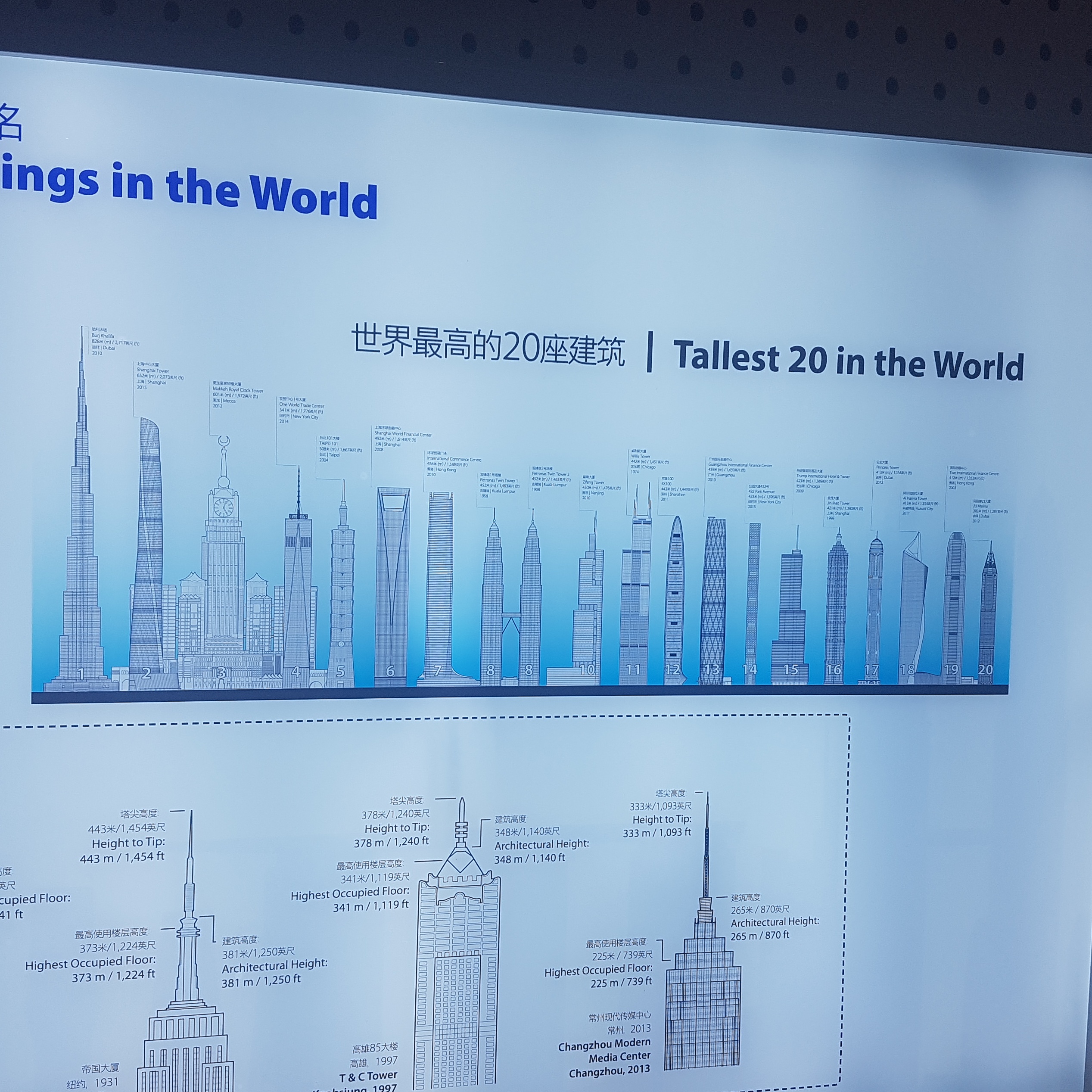 At the end of the exhibition, I queued for about 10 minutes for the lift and was at the 118th floor in under a minute. It was pretty crowded at the top and I spent about 30 minutes at the top admiring the views.
I had an early flight to Jinan City in the morning so picked up some sushi for dinner and headed back to my hotel. With over 20,000 steps on my pedometer, I felt I'd covered a lot of ground, though just a tiny fraction of Shanghai's whopping 6,340 km sq.
Sunday 14 May 2017
Jinan City
On Sunday, Marissa and I were Jinan City bound for an agent recruitment fair. We flew early in the morning and then returned in the evening. There wasn't much time to explore Jinan but we did make a quick stop at Baotu Spring Scenic Area. This is part of Baotu Spring Group Geo Park and contains over 100 springs. Apparently Jinan is the city of springs!
We had a walk around the lovely park, packed with people enjoying the weekend.
At one place in the park, there was a queue of people waiting to fill up their water bottles with the spring water, which is meant to be very good for you and also makes a good cup of tea!
We walked by a man who was playing with a ball and a net-less badminton racket. He noticed us watching and invited me to play too (with the help of Marissa translating!). It was surprisingly fun! He asked me to sign his visitors book before we moved on.
Before the fair, we had an early lunch at 10:45 – super early but the place was filling up quickly. We went to a seafood place with lots of dumplings on offer and had cucumber dumplings, squid dumplings and sides of okra and broccoli.
Monday 15 May 2017
SUFE
Another day of meetings in Shanghai. My last meeting was with students at Shanghai University of Finance and Economics (SUFE) where I met three of our students on Exchange to SUFE and four SUFE students who are doing an Exchange to Edinburgh in September. After a useful session of our students answering the SUFE student's questions about student life in Edinburgh (they knew very little about the city), I had a tour of the uni from our students who told me about their experiences in China. Lots of interesting differences between student life in China and the UK – for example, student accommodation in China consists of rooms with bunk beds for six people. Our student halls with their private rooms and bathrooms will seem like luxury to the students coming on an Exchange!
The Bund at night
The guys pointed me in the direction of the nearest metro station and I headed for The Bund again to see it at night. Fighting my way through crowds from the metro station, it was well worth the trip to see the skyline all lit up in the dark. It was my last night in Shanghai and I stood for a while (on the very busy Bund), taking in the view before heading back to my hotel to pack before leaving for Tianjin the next morning. (I booked the train from Shanghai to Tianjin on ctrip.com)
Check out my other Chinese blog posts on arriving in China, Tianjin, Beijing, Xi'an, Pingyao and what to expect in China.