Sunday 18 & Monday 19 September 2016
Exploring Kraków
On our first day in Kraków, we left the city to explore Nova Huta and on our second day we left the city to visit Auschwitz and Wieliczka Salt Mines. So on our final day in Kraków we wanted to actually explore the city. After seeing the company highly ranked on trusty TripAdvisor, we booked a bicycle tour with Cruising Kraków.
There are a few tour options and we decided on the 'city tour', which promised to show us the city in a 'concise and fun manner' – ideal!
The city tour covers 12km and lasts around 4 hours. It is listed as a 'beginners' tour so not too strenuous, costs 105PLN (about £22) and includes lunch.
Main Market Square
Our tour kicked off at noon so we walked from our apartment and arrived a little early and met our tour guide, Tom, waiting by the Adam Mickiewicz statue. An English couple and girl from New Zealand joined us.
Just before noon, Tom pointed out a window right at the top of the tower of St Mary's Church and told us a trumpet player would open the window and play at noon. Right on time, the window opened and a trumpet appeared, playing a tune. Our guide explained that this tradition dated back to the middle ages when the trumpeter would play to warn people in the city of any attacks.
As the trumpet player closed the window, our tour kicked off. We started with Market Square and Tom gave us information on the Adam Mickiewicz statue, Church of St Adelbert, the Cloth Hall and the Town Hall Tower.
The two towers of St Mary's Church are slightly different heights. Legend has it that two brothers built each tower and when one realised that his tower was shorter, stabbed his brother. He couldn't live with the guilt and committed suicide by jumping from his tower. The iron knife used to stab his brother hangs above one of the entrances to the Cloth Hall. It is there as a reminder to thieves not to steal from the stalls within the Cloth Hall.
Bikes
We covered the Main Square on foot and then walked the very short distance to Cruising Kraków's shop which is on a street beside the square. At the shop we paid, signed disclaimers and decided if we wanted to pre-order lunch, which we all did.
We each picked up a bike from the little courtyard outside the shop and followed Tom to our first stop.
Stare Miasto
The old town centre of Kraków is called Stare Miasto. The area was once surrounded by medieval city walls but now only a few sections of the wall remain, which we stopped to see. The area around the perimeter of Stare Miasto is a big park (Planty Gardens). We started our tour in this area with Tom pointing out the old city wall, Kraków Barbican and the monument of Queen Jadwiga and King Jagiello, whose marriage joined Poland and Lithuania in 1386.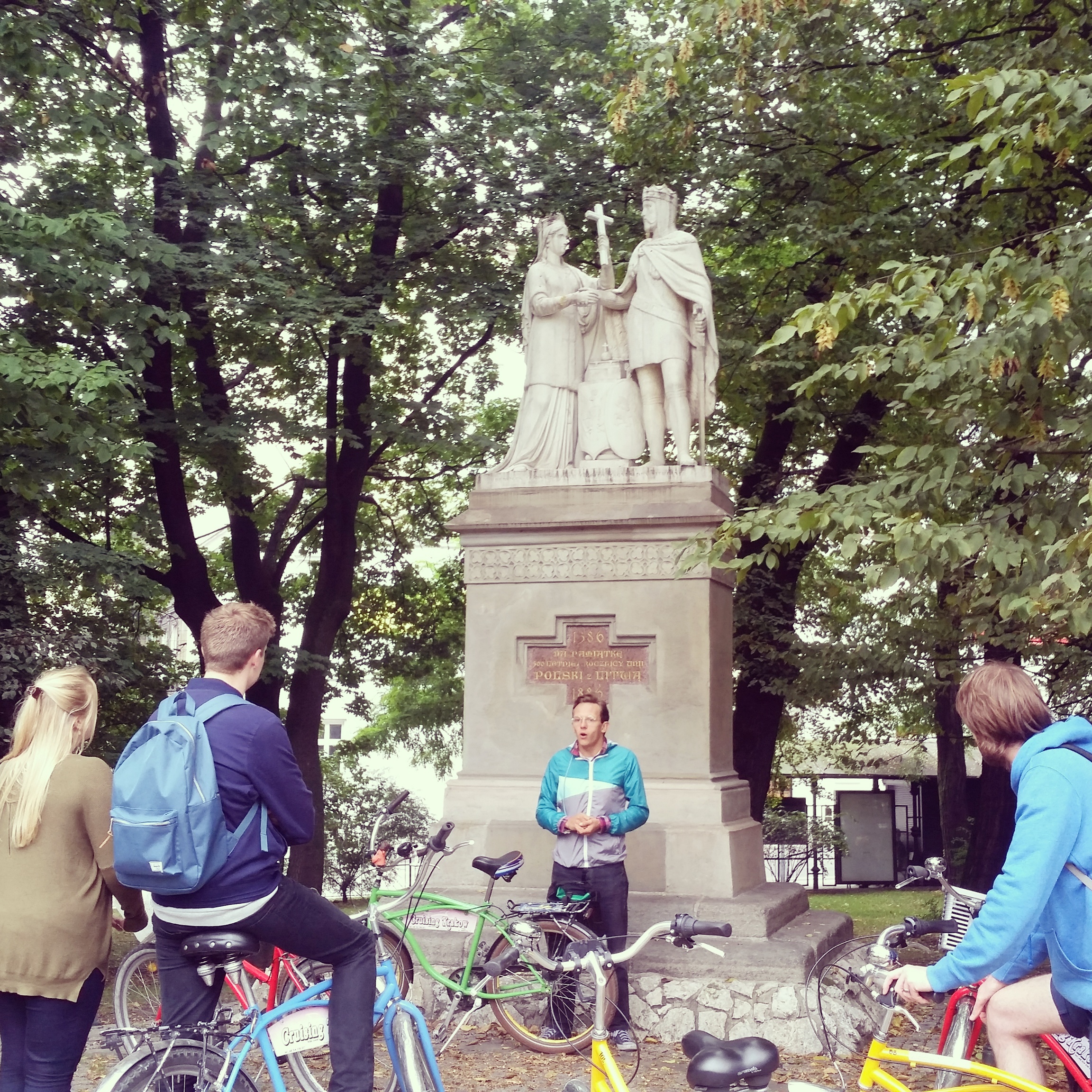 We left the Planty Gardens and headed back into the Stare Miasto, to Jagiellonian University.
As a side note, in Edinburgh we have four universities and one college which I thought was a lot for one city. Kraków has 10 public universities and 13 non-public universities!
Anywho, we arrived at Jagiellonian University just before 1pm and Tom told us about the clock in the courtyard of Collegium Maius. The clock has wooden figures of kings and famous professors which pop out at 11am, 1pm and 3pm. We left our bikes with Tom and went into the courtyard to watch the clock at 1pm (well timed by Tom!). The courtyard was full of people there to watch the clock.
From Collegium Maius, we cycled on to get some history of the Polish Pope, John Paul II while stopped outside the Bishop's Palace. Tom was a big fan of Pope John Paul II and said that he'd like to do a 'Pope tour'. It seems like he had a very fascinating life, which would make an interesting tour. We heard a few days earlier in Nova Huta that Pope John Paul II had played a huge part in ending communism in Poland. Our Crazy Guides tour had described him as one of the best politicians in Poland at the time.
When he was 18, Pope John Paul II (actually called Karol Józef Wojtyła but took his predecessor's name in tribute to him) moved to Kraków and studied at Jagiellonian University. He then studied priesthood at Bishop's Palace, where we stood and served as the Pope from 1978-2005. He learnt 12 languages and travelled to 129 countries during his pontificate.
Wawal Castle
As we had browsed the market stalls in Kraków we had noticed a lot of dragon-related paraphernalia, which made sense when we arrived at Wawal Castle. The Castle sits on the banks of the Vistula River and our guide gave us a brief history.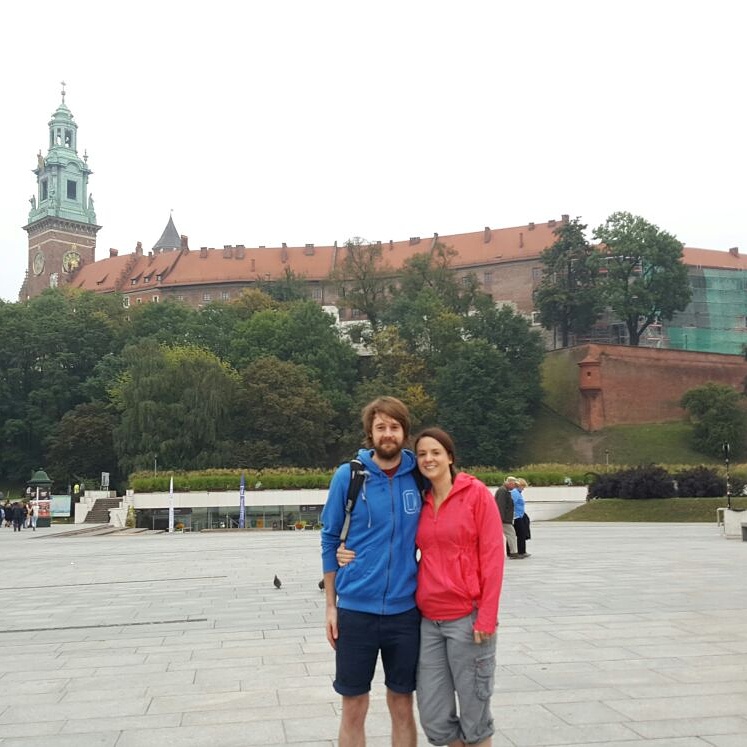 In front of the Castle, there is a big bronze statue of the Wawal Dragon. Legend has it that the dragon terrorised the town and the King promised the hand of his daughter to the hero that could slay it. After lots of failed attempts, a penniless shoemaker rocked up and killed the dragon by feeding it a sheep stuffed with sulphur. This made the dragon incredibly thirsty and he drank and drank water from the Vistula River until he exploded – job done!
There were kids climbing up on the statue of the Wawal Dragon and Tom joked (we thought!) that it was actually fire breathing. Seconds later, fire came out of the dragon's mouth as the kids played beneath!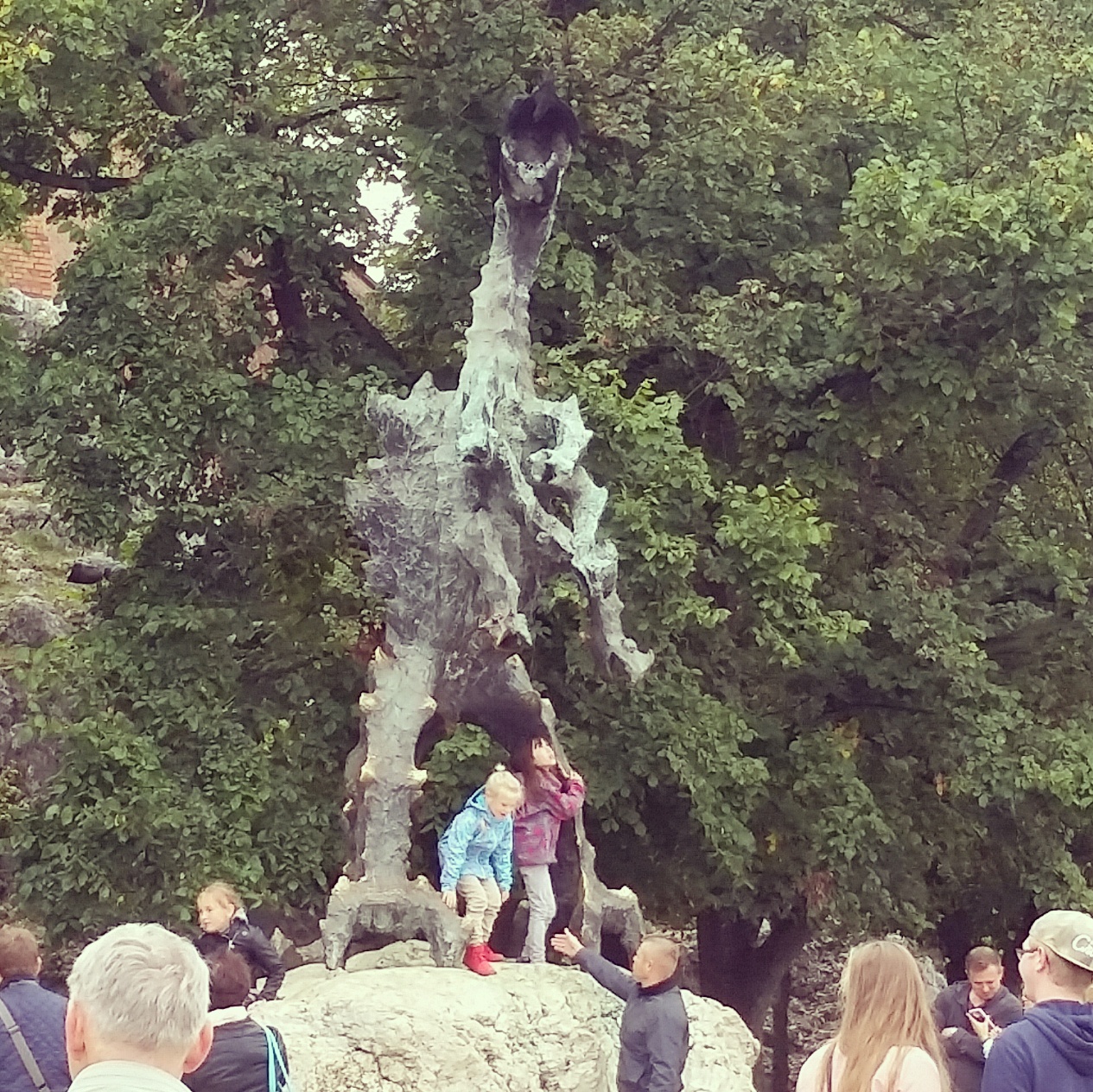 From the Castle, we cycled along the Vistula River towards the Father Bernatek Footbridge (Kładka Ojca Bernatka). On our way, Tom pointed out a hotel on the south of the river which is currently disused. The rather ugly Soviet-style building is hidden by a huge advertisement for a Van Gogh exhibition. Tom told us that during the communist era, this was the hotel that foreigners were allowed to stay in…and the rooms were all bugged.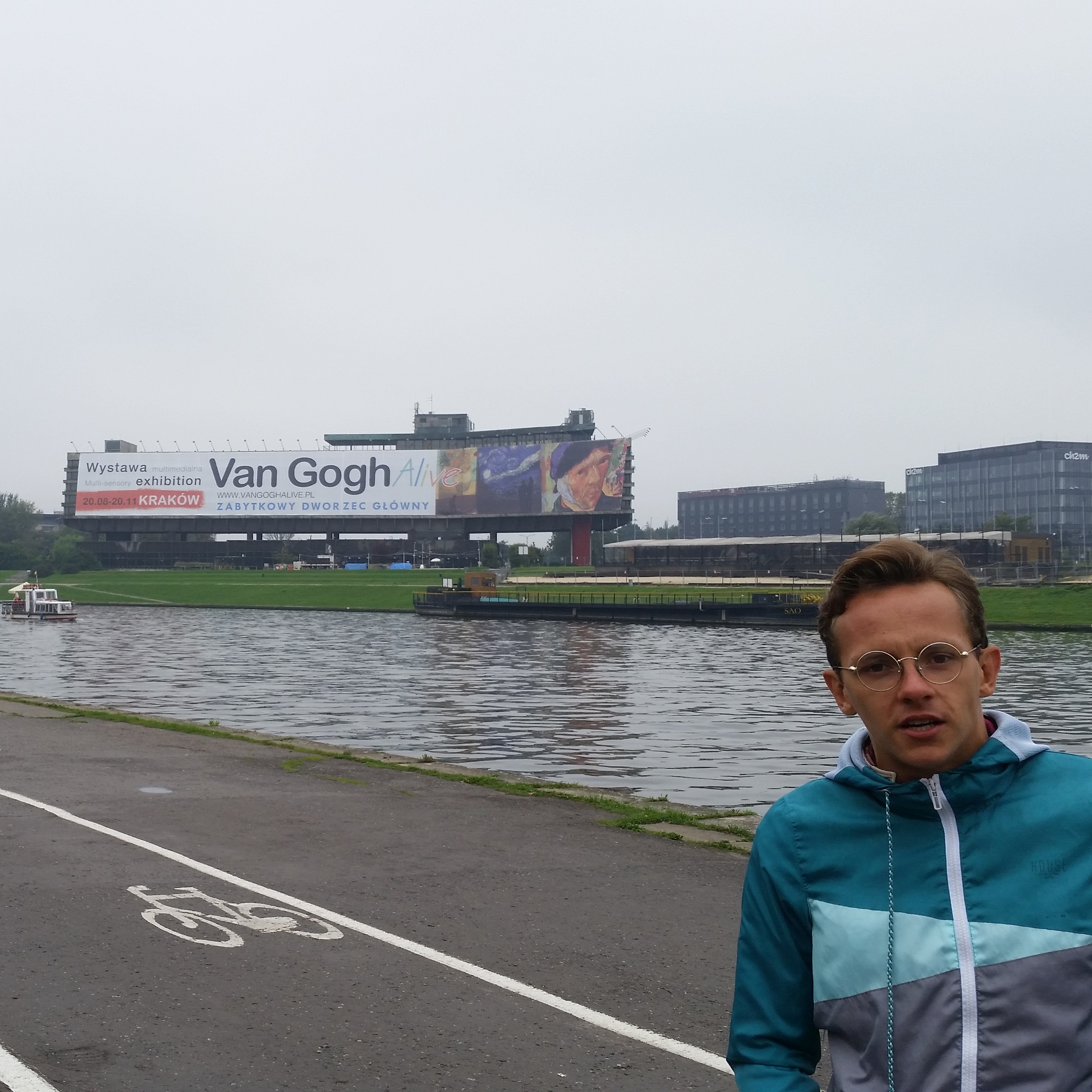 Jewish Ghetto
We cycled over the Father Bernatek Footbridge and into the Jewish Ghetto area. In 1941, the Jewish Ghetto was established by the Nazis in the district of Podgórze. The 3,000 original residents were relocated and replaced with about 18,000 Jews, with one apartment allocated to every four families. The Ghetto was surrounded by a wall and barbed-wire fences. A giant, overcrowded prison for Jews.
Our first stop in the Jewish Ghetto was Plac Bohaterów Getta (Ghetto Heroes Square). In 2005, a memorial to the victims of the Ghetto was created. The Empty Chairs Memorial represents loss and the absence of Jews as their possessions were left behind in the square.
We then went on to see the last section of the Ghetto wall. A 12 meter section of the original wall exists with a commemorative plaque which was raised in 1983. The arches at the top of the wall were designed to resemble Jewish tombstones, to threaten the Jews imprisoned there.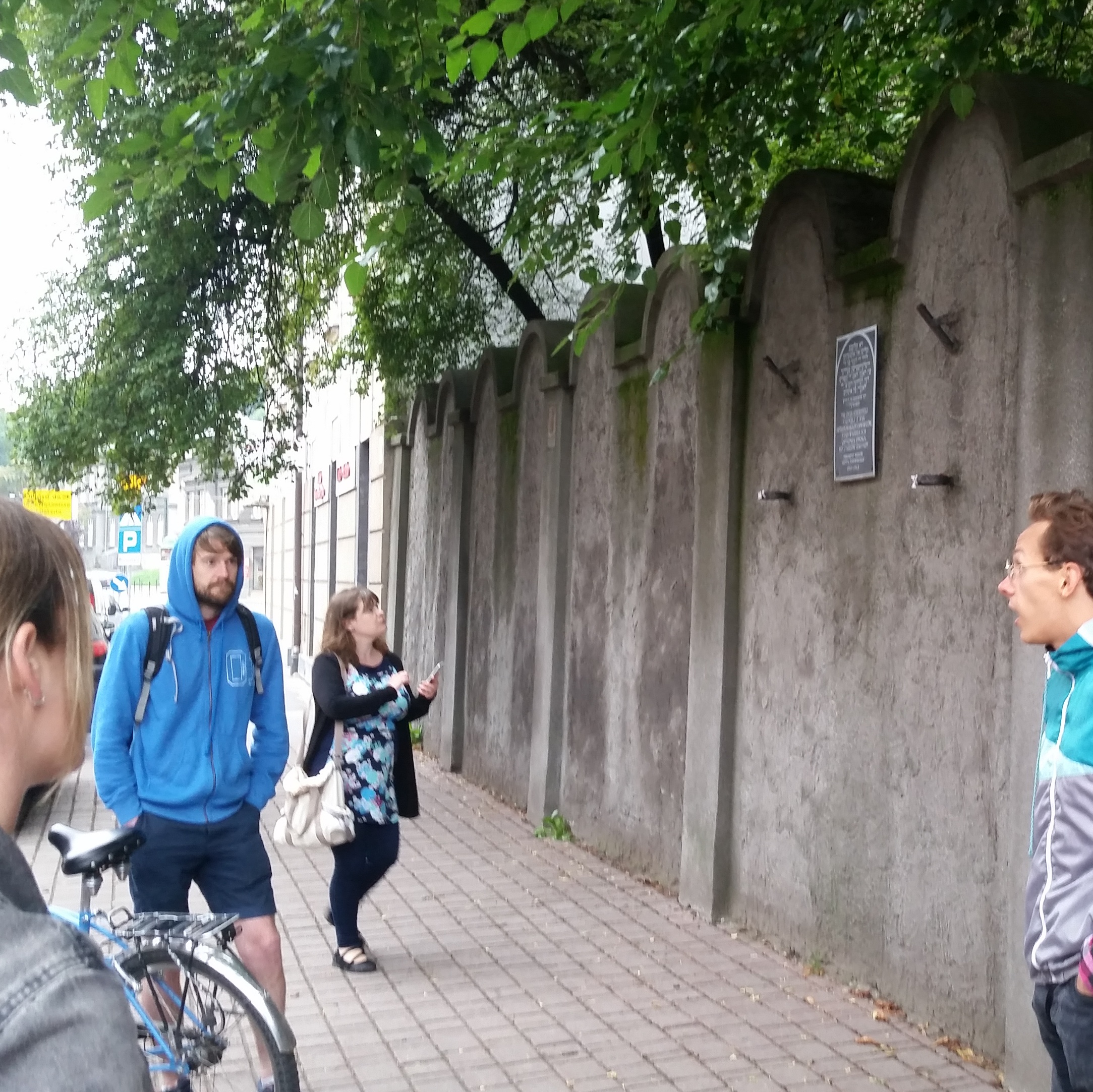 In Hebrew and Polish this reads: "Here they lived, suffered and died at the hands of the German torturers. From here they began their final journey to the death camps."
We stopped by Schindler's Factory, where Oskar Schindler employed Jewish workers during World War 2 and stopped them being sent to concentration camps. We didn't get a chance to visit this museum during our time in Kraków but our guide recommended it as one of the best museums in the city.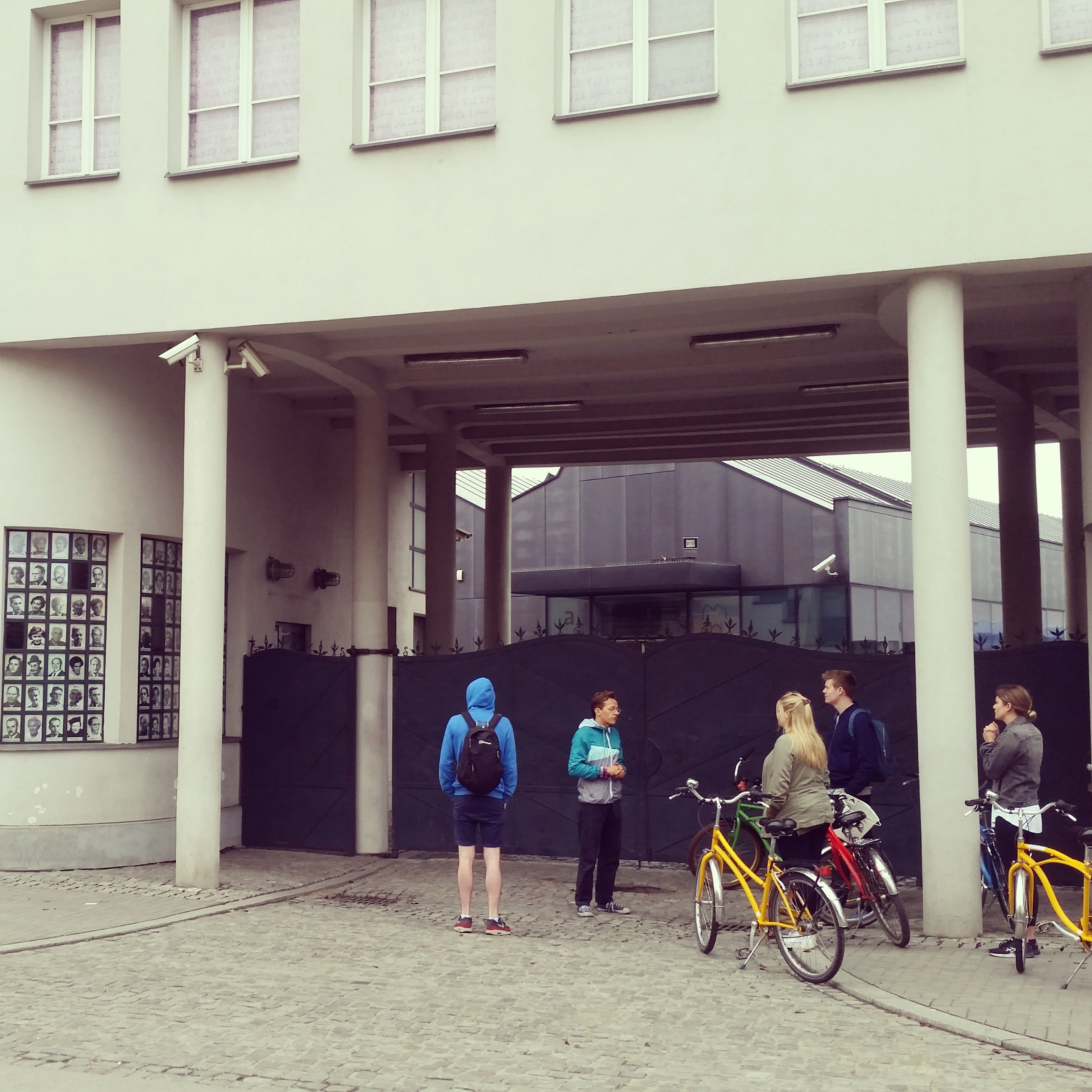 Jewish Quarter
Stopping off briefly to see the Old Jewish Cemetery, we cycled to the Jewish district of Kazimierz for lunch.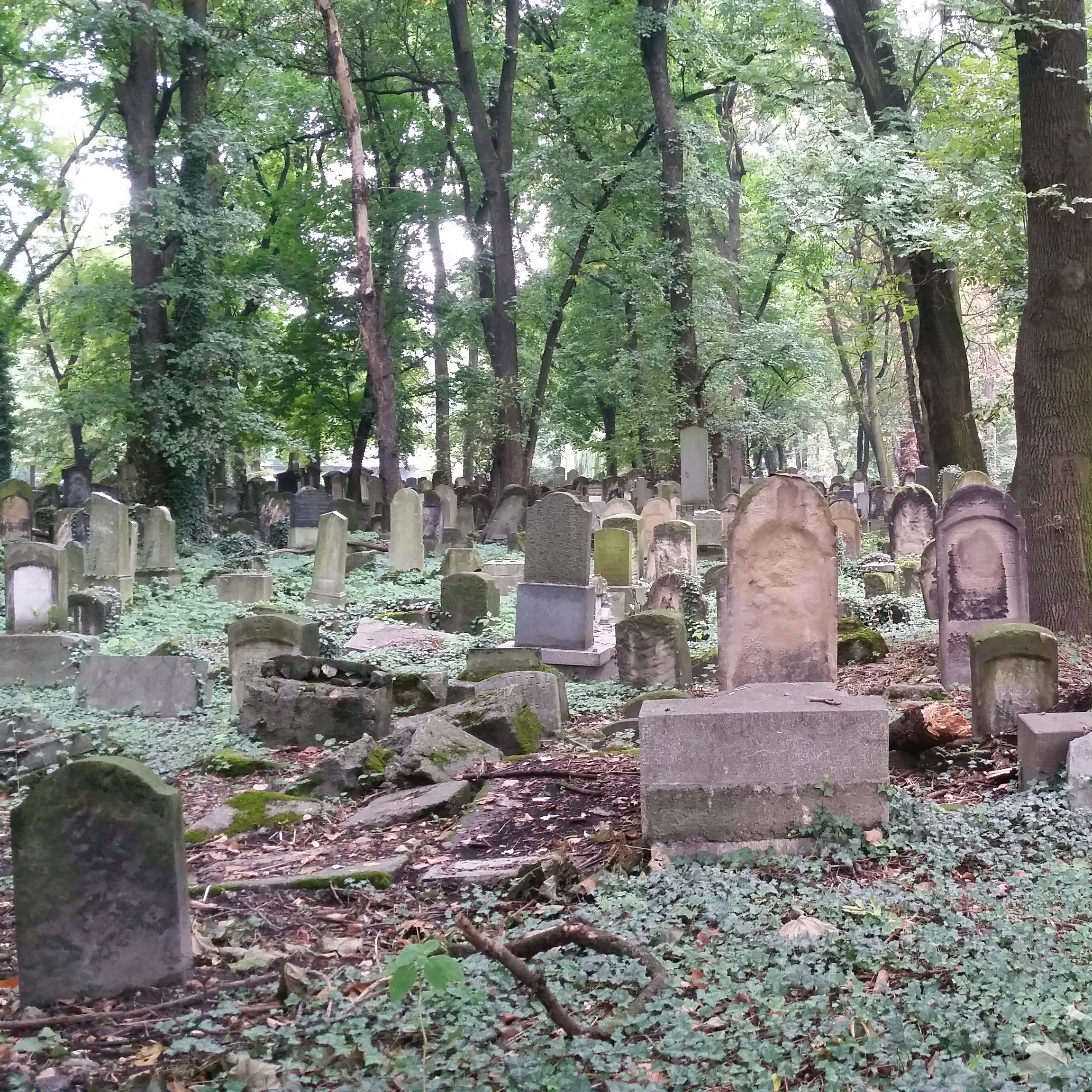 We went to the Polish restaurant, Od Switu do Zmierzchu, where our lunches had been pre-ordered by Cruising Kraków. We all had soup for a starter which was very much appreciated as it was getting really cold outside and we all needed to warm up. For main course, David and I (veges) had crepes with cheese (which were kind of sweet) and everyone else had cutlet with potatoes and veg. We were all given a stewed fruit drink with our meal and also ordered an alcoholic drink (after being given the go ahead by Tom to drink and cycle!).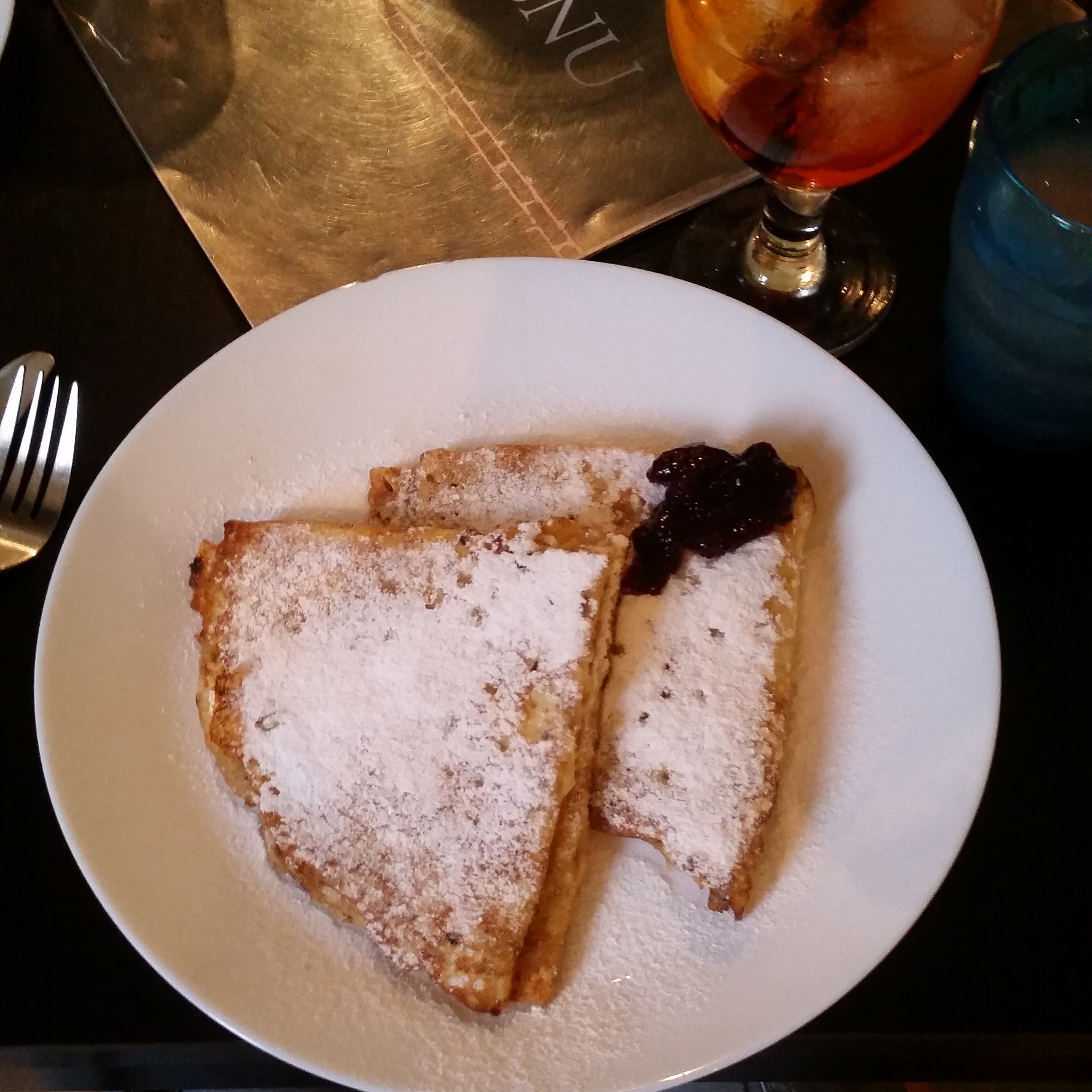 It was nice to spend some time with Tom and the others in our group chatting over lunch. It's always interesting to find out more about where people are from, their travels and life back home.
After lunch, we jumped back on our bikes and headed back towards the old town to drop off our bikes and say goodbye to Tom and our group.
I'd highly recommend Cruising Kraków if you want to explore the city. The benefit of being on bikes is that you can cover so much more ground than walking and it was a fun way to see Kraków. Tom was a great guide – very friendly and knowledgeable.
Milk Bar
It was our third day in Kraków and I'd developed quite an addiction to perogies by this point. I was slightly disappointed that there were no perogies involved in lunch so we decided to pop into a 'milk bar' on our walk back to the apartment.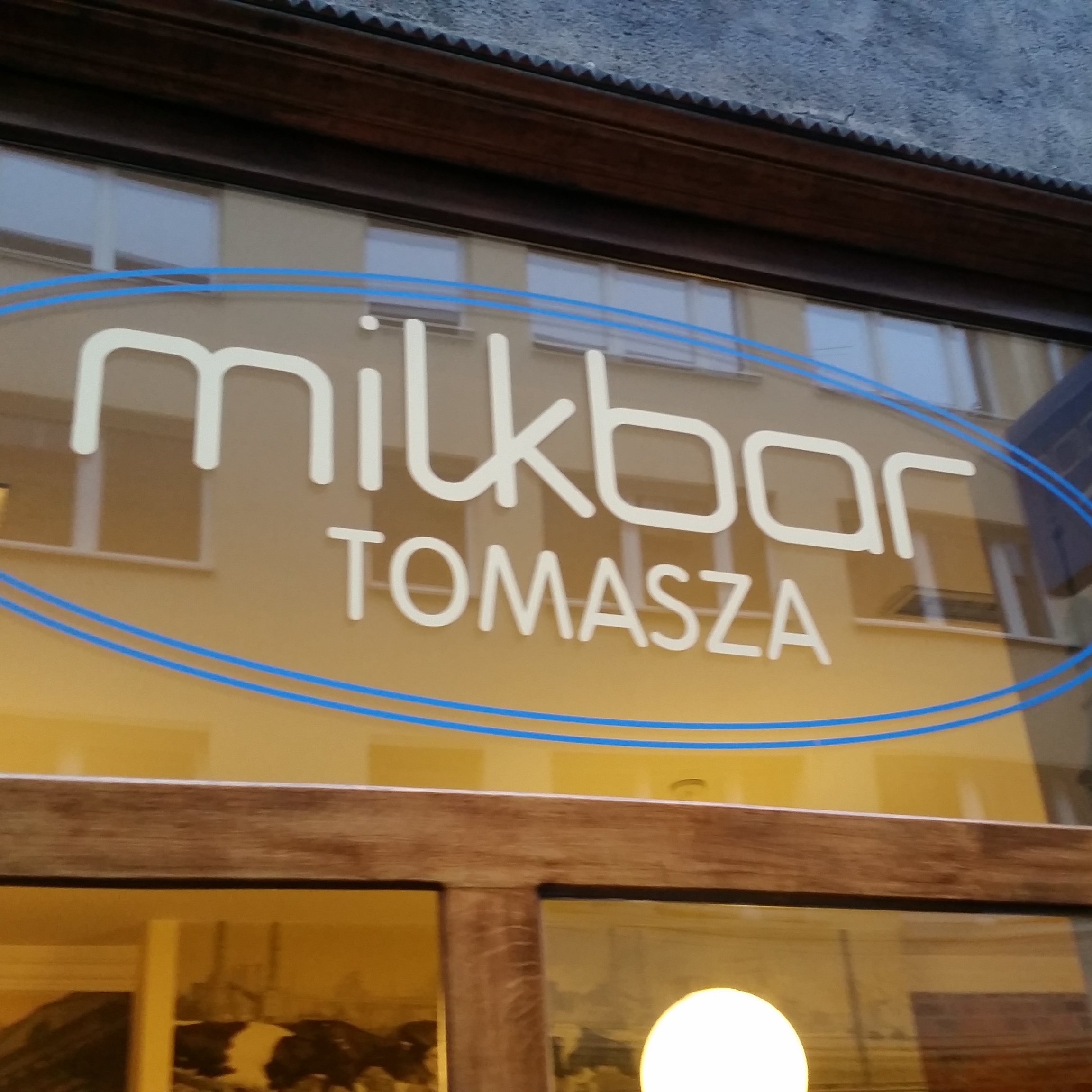 We stopped in Milkbar Tomasza, which was very different to the milk bar we had lunch in during our Crazy Guides tour to Nova Huta. It had a huge menu (in both Polish and English), including all day breakfasts, paninis and coffee, and seemed very unauthentic in comparison to what we had experienced a few days earlier. A portion of perogies were 15 PLN (about £3) and they had been only 3.42 PLN in Nova Huta. We got a portion to share which were very nice but I'm glad we had been able to get the proper 'milk bar' experience during the Crazy Guides tour.
Dinner
Before we arrived in Poland, I had searched on TripAdvisor for the best restaurants and Restauracja Starka was ranked number 1 in Kraków. I contacted the restaurant by email and made a reservation for our last night. The restaurant was at the other side of the city centre from us and, with no Polish to order a taxi, we decided to use Uber. We were delighted to discover how cheap Uber is in Poland! The 4km journey only cost us 11 PLN (£2.30) – so much cheaper than Uber and taxis in Edinburgh.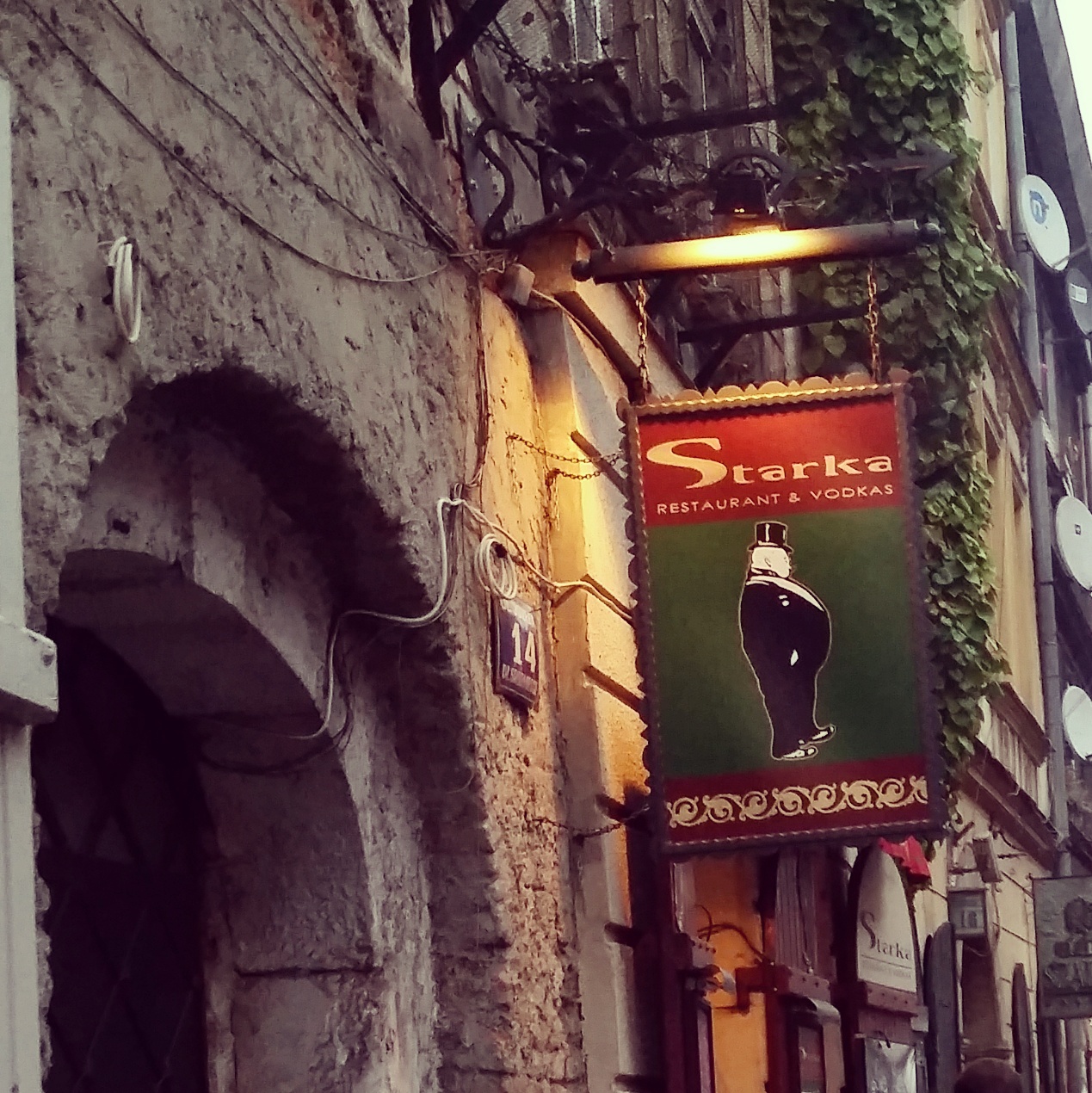 The food was lovely although very few vegetarian/fish options. We shared some perogies to start (addicted) and then I had breaded Camembert (I'm a mad cheese lover and cheese for dinner couldn't be passed up!) and David had salmon. Another super reasonably priced meal – along with a beer and a cocktail it came to only 117 PLN (about £24).
After dinner, we popped across the road to Eszeweria Bar for a drink. It was also highly ranked on TripAdvisor and quite dark and cosy inside. There was a smoking area – which is always quite strange for me as we've had ban on smoking in public places in Scotland for over 10 years.
We ordered an Uber and got back to our apartment for slightly cheaper than our trip out!
Heading home
The next morning, we checked out and walked to the train station which was about 15 minutes away. The train station is beside a shopping centre and it took us a while to find the entrance as it tucked away in corner. Train tickets to the airport only cost 8 PLN (about £1.65) per person (we had paid 80 PLN for a taxi transfer on arrival) and it takes less than 20 minutes. The train station is right beside the terminal.
The queue for security was huge and one of the staff shouted out to ask if anyone was flying to Edinburgh. We said that we were and she called us ahead, which we thought was odd as we were (uncharacteristically) pretty early for our flight. Turns out there was a Ryanair flight a few hours before our EasyJet one, which she realised after calling us forward. But she decided to let us queue jump anyway which was a bonus! The airport has surprisingly few food and drink places for how busy it was and we grabbed some (quite expensive in comparison to other places we had eaten) pizza and pasta at Boccone Trattoria while waiting for our flight.
I would hugely recommend a city break to Kraków. The city is really beautiful, everything is very cheap and there is so much interesting history. David loves history and I often find myself dragged around museums and Roman ruins while on holiday which I find difficult to 'bring to life' in my head. It was so different in Poland as it is all (scarily) recent and I found myself totally fascinated while learning about Nova Huta, Auschwitz and the Jewish Ghetto. I'd also highly recommend the trips we did which allowed us to get a flavour of everything in a few days.